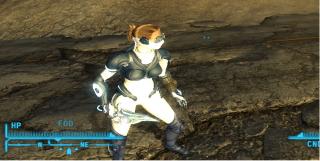 Views: 2,935
1.0
Delikatessen
Before you ask me what armor and weapon I was using in the "Before" picture, it was Pikey's Ultimate Starcraft Ghost Mod found here: http://modsreloaded.com/starcraft-ghost-mod

Great work Pikey, awesome mod.
Description:
This mod adds a cloaking device to the game, so you can steal things without being spotted.

Stats:
+100 Sneak (Maximum)
+100 Stealth Field (Not maximum, but almost completely invisible.)

Location:
In the Goodsprings schoolhouse near the back of the building is a military footlocker (black stripes on top).
The device is in that.

Install and Uninstall:Extract or Drag and Drop the Cloaking Device.esp file to the Fallout New Vegas/Data folder.

To uninstall just delete the file.


Known bugs:
When wearing it and in thirdperson mode, your character appears bald with your hair on the side of your left arm
when your weapon is drawn.

Credits:
Me! I made it.

Notes:
It does not have a world model and therefore can not be dropped, because it is a quest item.

This is because there is only one of the device and if dropped it would be invisible and could not be picked up
again.

This mod will never be updated unless it makes your head asplode, turns your room into the fiery gates, turns your computer into a bloodthirsty robot that wants to eat you and your friends and family, hacks into ARCHIMEDES II and targets your house, or brings an end to the universe. But we all know that will never happen :P