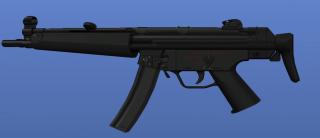 Views: 1,631
1.0
Nobeous
++++++++++++++++++++++++++++++++++++++++++++++++++++++

NAVY MP5

++++++++++++++++++++++++++++++++++++++++++++++++++++++

Modding and converting in GTA 4 from Nobeus
Credits:
Model:

Twinkie Masta
Textures:
Stoke (skin)

FxDarkloki (normals/refs)
Compiles/wees/buy pics:
FxDarkloki

If i've forgotten anyone in the credits, lemme know.

The model uses all the features of the engine GTA 4, such as Normal mapping and specular

WARNING!
Do not forget to backup your files before installing any mods!

Installation:
The game should be patched to change the files (use the magic patcher)

Using the Spark or the Open VI open weapons.img and add the files from the archive, with the replacement of existing ones.

After it is recommended to rebuild the archive

That's all. Enjoy the game. :)

Copyright (C) 2010 by Nobeus

All rights to the original model belong to the authors