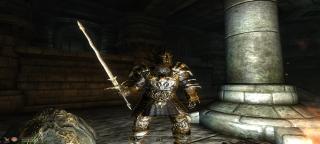 Views: 2,424
1.0
Lord Frostcraig
Name: Golden Daedric Armor
Version: 1.5
Date: 7/19/2010
Category: Weapons and Armor
Requirements: Oblivion Patch 1.2.0.416
Author(s): Lord Frostcraig
Source: Link

Images
======
The reason I can hold those two handed weapons is because I'm an Xivalli, a mod AlienSlof made.

Description
===========
This mod adds retextured daedric armor and a longsword into the game. In order to get the quest, you must speak to the owner of the Slash'n'Smash. Golden Daedric Armor is slightly more powerful and weighs a few pounds less (gold is really light). Now with female, full weapon set, and enchanted set. If you have already gotten the armor, and have killed the dremora, all you need to do to get the armor is search him again. If his body is no longer there PM me and I will release a version with a chest with it.

Location
========
Ask the owner of the Slash'n'Smash. Also added to the Testing Hall, accessed via coc TestingHall in the console.


Install
=======
1. Extract the files to a temporary location.
2. Examine the folder structure and make corrections where necessary.
3. Copy files to (install folder)OblivionData
4. Start Oblivion Launcher, click 'Data Files', place a checkmark beside the .esp file(s).

Uninstall
=========
1. Start Oblivion Launcher, click Data Files, uncheck the .esp file(s).
2. Delete the folders associated with the mod.

OblivionDataMeshesArmorGoldenDaedric
OblivionDataTexturesArmorGoldDaedric
OblivionDataTexturesWeaponsGoldDaedric
OblivionDataTexturesMenusIconsArmorGoldenDaedric
OblivionDataTexturesMenusIconsWeaponsGoldenDaedric


Incompatibility
===============
Most likely:
Any mod that edits the Hall of Legends in Fort Scinia
Any mod that edits the SLash'n'Smash


Change Log
===========
1.0
Retextured armor
Retextured longsword
Added stuff to game
1.5
Added female set
Added Enchanted set
Added full weapons set

You can send me an email here: lordfrostcraig@gmail.com
A PM

Credits
=======

Thanks to Bethesda for creating Oblivion.
Thanks to TESNexus.com for hosting it
Thanks to LHammonds for the Readme Generator this file was based on.


Tools Used
==========
GIMP - Link
NIFSkope - Link
TES Construction Set - Link
Readme Generator - Link
===============
You must contact me and obtain my permission before re-packaging any part of
this mod.

Enjoy!

My other work
=============
Click here
Its too hard to update every time I upload another mod.