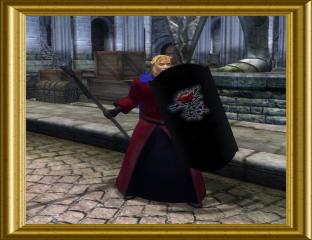 Views: 894
1.0
LHammonds
Name: Dark Tower Shield
Version: 1.0
Date: 10/7/2007
Category: Weapons and Armor
Requirements: 7-Zip
Author: LHammonds
Source: TESNexus
File Mirror #1: RapidShare
File Mirror #2: File Front
File Mirror #3: SendSpace
File Mirror #4: 4Shared
File Mirror #5: Planet Elder Scrolls
RELz Thread: The Elder Scrolls Forum
Homepage: OBMM How-To Site
Description
This mod adds two versions of a custom shield called The Dark Tower shield.
They can be found for sale at Stonewall Shields in the Imperial City Market District.
Details
a href="http://www.bethsoft.com/bgsforums/index.php?showtopic=761814">Original Request by KhaosKnight

Heavy Shield stats are equivalent to Ebony
Light Shield stats are equivalent to Elven
Install
Please see the readme file for details.
Incompatibility
None. The vendor has his own unique chest.
Known Issues or Bugs
None.
History
1.0, 2007/10/07 - Initial release.
Future
Nothing planned.
Contact
You can find me on the official Elder Scrolls forums as 'Conan_Lon'
You can find me on TESNexus as 'LHammonds'
Credits
LHammonds for the custom shield, inventory icons and plugin.
Thanks to Bethesda for creating Oblivion.
Thanks to TESNexus.com for the a one-stop-shop resource for authors and players.
Thanks to KhaosKnight for the original request.
Thanks to JazzJR for the light shield texture.
Thanks to Slayer_of_the_Shadows for the heavy shield texture.
Thanks to God for creating us all.
Tools Used
a href="http://www.tesnexus.com/downloads/file.php?id=15579">7-Zip
Blender
DDS Converter
ESPluginCracker
NIFSkope
Oblivion Mod Manager
Paint Shop Pro
Readme Generator
TES Construction Set
Licensing/Legal
All models and textures are freely distributed to be used in the game Elder Scroll IV: Oblivion only.
You can use these resources in your own Oblivion mods but you need to give credit where it is due (see credit section above).
It would be nice if you let me know of the mods that you release that use these resources.
It's always exciting to see new things created from your own work.