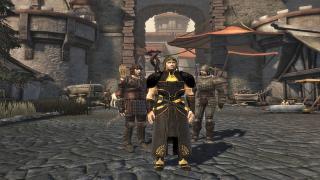 Views: 2,318
1.1
Dall
---README---

for DALLs - Dalls Gear One

v1.1

01/04/2010

Dalls Gear One is Arms and Armor mod which I have made primarily for myself and then decided to share with the rest of DAO community. This mod adds to player inventory number of highly desirable and quite unique Arms, Armor / Robes and enchanted rings/amulets. It caters well for needs all classes but it is better suited for lovers of Heroic Fantasy approach then to hardcore RPG-ing! It comes in two flavours with and without by me modified core game textures. Textures changed will change for better how some game items / texture look but if you do not want these changes there is version without them. These visual changes apply mostly to modified Morigan's outfit, studded leather armor, Witch outfit and one of medium armors (Varathorn's Armor). As my armors are tweaked to take full advantage of these textures I would recommend them especially as other game armors dependant on these textures are not overly changed / affected. Items added are the most appropriate for higher level characters or for harder game settings but can be used by almost anyone at any level. Enchantments which were added to items are on the strong side but they will not make you god or invincible especially not if you use them sparingly and wisely. On the other hand if you use them all at once you might really start to feel like Maker's unleashed Wrath. Choice is up to you. Regardless if you don't like them you can always sell the lot for tidy profit. ;)

What you are getting in this mod:

Morigan's bare breasts Black Drakeskin outfit which can be used by other human female NPCs / player (no male version) (1X) *WARRNING SOME NUDITY!*
Tasty Dark Drakeskin Witch Outfit M/F usable by all (3X)
Gold Trimmed Enchanter Robes M/F usable by all (1X)
Gold Trimmed Enchanter Cowls M/F usable by all (1X + 1X)
Full Studded Dark Drakeskin Leather Armor Set M/F (3X)
Full Medium Dragonbone Armor Set M/F (2X)
One Enchanted Dragonbone Great Sword
Two Enchanted Dragonbone Staves
Three Enchanted Dragonthorn Bows
Four Enchanted Dragonbone Longswords
Number of Rings and Amulets good enough for almost all of your companions

To install you will have to use some of DAO Mod managers or game DAUpdater. Mod is saved in .dazip format which if need be can be opened with Winzip as well. Point your mod installer of choice to file / version of DallsGearOne you want to install and let it do magic. Do not forget to check in DallsGearOne in your Game Downloadable Content.

One of this Mod Managers can be found at:
http://www.dragonagenexus.com/downloads/file.php?id=286

Bugs / problems: None known to me but add items script used have one not so obvious shortcoming it will work fine with your existing character but if you create new character after this mod installation add items will not be automatically loaded to this new character inventory! But don't fret about it as work around this minor problem is quite simple and completely painless. All you have to do is to save game with new character >exit to main menu>go and uncheck DallsGearOne in Game Downloadable Content>go back and force-load your last save>once in game make new save>exit to Main menu and check in DallsGearOne mod again>load your very last save and presto all mod add items will be again in your inventory. You can try same with any other DLC add items mod which gets broken by some in game script like one in Dwarf Noble Origin.

Note on v1.1: New load script, some minor model changes and few more (requested) items were added (Enchanters Robe and two Cowls). In v1.1 Full you will find some new / improved re/textures of included items (see pictures) so this one is highly recommended even if you already have/use my model textures. Alternatively if you want to keep your textures as they are / unchanged use / install other package (plain / small) v1.1.

These items can be used / work well with Awakening Expansion Pack but to get them there you'll need first to get them into Origins (Main Game). Once you have items with your (Origins) character ready to import into Awakening do following: to be on safe side don't wear anything but collect and unequip the whole lot into your inventory and make clean save. Use same (save) as source for Awakening character creation / import. Same applies for anything else you might want to have as well at beginning (of Awakening) like ammo, money, runes, potions etc.


There is now weapons textures add on Dalls_Gear_One_Weapons mod which will enhance visual improvements even further.
It ca be found at:

http://www.dragonagenexus.com/downloads/file.php?id=1004


Use:

Free to use but if resources included are used due credit is expected.

Enjoy! ;)

Special thanks and kudos to weriKK's and his add items script which made this mod possible and to LIFEFORM's Morigan's braless outfit remake which was used as starting point for my version of same item. And finally my big thanks to BioWare for really great game.