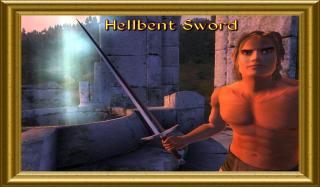 Views: 1,185
1.0
LHammonds
Name: Hellbent Sword
Version: 1.0
Date: 2/25/2008
Category: Weapons and Armor
Required: 7-Zip
Recommended: Oblivion Mod Manager
Author: LHammonds
Source: TESNexus
RELz Thread: The Elder Scrolls Forums
Homepage: Oblivion Mod Manager How-To Site
File Mirror #1: Planet Elder Scrolls
File Mirror #2: FileFront
File Mirror #3: MediaFire
File Mirror #4: 4Shared
File Mirror #5: SendSpace
File Mirror #6: RapidShare
Description
The Hellbent sword that is Silver-quality can be purchased immediately but the Glass-quality version can only be taken from a master swordsmen who wanders in the cold wastelands. To take this weapon from the swordsman will not be an easy task for a newcomer.
Location
The Hellbent sword can be purchased at A Fighting Chance in the Imperial City Market District.
The Hellbent Master sword can be found on a wandering swordsman to the North of Bruma.
Install
This archive is distributed in what I call OMOD-Ready format.

It allows you to manually extract and install like most other mods but it also allows you to use Oblivion Mod Manager and import this archive with all the settings pre-configured for an OMOD file.

Please see the readme for details.
Incompatibility
None known.
Known Issues or Bugs
None known.
History
1.0, 2008/02/25 - Initial release.
Future
Nothing planned.
Contact
You can find me on the official Elder Scrolls forums as 'Conan_Lon'
You can find me on TESNexus as 'LHammonds'
Credits
LHammonds for the modified the mesh, UV Layout and textures in order to optimize game performance, plugin and menu icons.
Thanks to Bethesda for creating Oblivion.
Thanks to cipher_x for the original OBJ mesh and JPG textures - ShareCG.com
Thanks to TESNexus.com for the a one-stop-shop resource for authors and players.
Thanks to God for creating us all.
Tools Used
a href="http://www.tesnexus.com/downloads/file.php?id=12248">Blender
CrazyBump
DDS Converter
ESPluginCracker
NIFSkope
Oblivion Mod Manager
Paint Shop Pro
Photoshop
Readme Generator
TES Construction Set
TES4Files
Licensing/Legal
Consider this a modder's resource. You can do whatever you want with this mod but all I ask in return is that you give credit where it is due if you distribute any part of this mod.