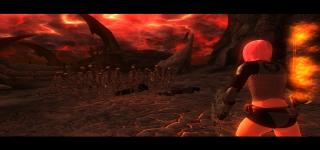 Views: 1,957
1.3
ZeRo2545
This mod lets you summon more creatures depending on your Conjuration level.

Apprentice = 5
Novice = 10
Journeyman = 15
Expert = 20
Master = 30

I've made a merchant that sells Summon Army spells for all us Necromancers.

You can buy them across from Edgar's shop located in the Market District.

Every normal summon spell gives you 1 at a time, but you can still create an army with the same creature, or even mix them up with different summon spells.

Current Spells:

---Summon Skeleton Army---
Summons all Skeletons in 1 cast

---Summon Deadra Army---
Summons all Deadra in 1 cast

---Summon Ghost Army---
Summons all Ghosts & Wraiths & Lich

---Summon Atronach Army---
Summons the 3 Atronachs in 1 cast

---Summon Hell---
Summons every summonable creature - Repeatable but not recommended *Game Could Crash*

Enjoy!

This mod requires Official Oblivion Patch 1.2
http://static.bethsoft.com/Oblivion/Oblivion_v1.2.0416English.exe

This mod requires OBSE v13
http://obse.silverlock.org/download/obse_0013a.zip

Installation:

Extract into X:\Program Files\Bethesda Softworks\Oblivion\Datan\Data

***Update***

-Fixed Life Detect bug
-Fixed Icons

***Bugs***

Don't save your game with summons out, your game will crash when trying to reload that particular save.
If you forget and this happens to you, just unload the plugin, load your game, re-save and then reload the plugin.
You will have to re-buy the Army spells.