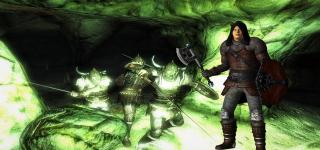 Views: 1,317
9.9 Beta
Team FCOM
===================

FCOM: Convergence

===================

Francesco + WarCry + Oscuro + Martigen (aka FranOOOMMM)

Beta 0.9.9

===================

Kaboom!

FCOM: Convergence shatters previous barriers in the Oblivion mod community by letting you play four of the largest Oblivion "overhaul" mods at the same time -- Oscuro's Oblivion Overhaul, Martigen's Monster Mod, Oblivion WarCry, and Francesco's Leveled Creatures-Items. It also seeks to show how new item and/or creature expansion mods can be added directly to this environment, and thus includes direct support for Bob's Armory, Loth's Blunt Weapons, Cobl, Tamrielic Ingredients, Knights of the Nine, and many other popular mods.

FCOM provides complete unification of MMM and OOO. It brings all of the numerous new creatures, NPCs, and items added by those mods into a consistent and balanced structure. It also integrates Francesco's vast collection of items and named NPC bosses, as well as items and creatures from WarCry.

To make all these great mods work together, FCOM provides a common infrastructure for a series of patches, rebalancers, and relevelers that work with the Bashed Patch feature of Wrye Bash. FCOM also provides many other compatibility patches for a wide range of other popular mods.

For details, see FCOM: Convergence http://devnull.devakm.googlepages.com/convergence.

Install Guide
http://fivefries.googlepages.com/fcominstallationguide.