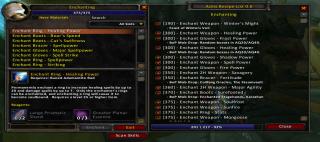 Views: 864
3.2.0
Ackis
Ackis Recipe List is an addon which will scan your trade skill recipes and print out a list of which recipes you are currently missing. It will work for all tradeskills including Runeforging.
French (frFR)
Affiche une liste des recettes manquantes de vos métiers. Fonctionne avec tous les métiers, y compris les poisons des voleurs et les capacités des familiers des chasseurs.
German (deDE)
Zeigt eine Liste der Rezepte, die Ihr noch nicht mit eurem Beruf gelernt habt. Funktioniert mit allen Berufen sowie den klassenspezifischen Berufen. (noch nicht vollständig übersetzt)
Korean (koKR)
의 제조법 리스트캐릭터가 배우지 못한 제조법을 표시합니다. 모든 전문기술 및 도적의 독과 사냥꾼의 야수 훈련도 포함합니다.
Spanish (esES)
Muestra una lista de recetas inexistentes para sus Habilidades de Comercio. Funciona con todas las habilidades comerciales, incluidas venenos y entrenamiento de bestias del cazador.
Simplified Chinese (zhCN)

全面详细的商业技能信息插件,包括毒药和宠物技能.
Traditional Chinese (zhTW)
詳細的專業技能配方查詢插件。.