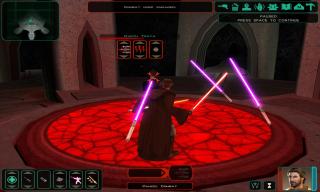 Views: 3,089
1.0
Darth Saboteur
Star Wars: Knights of the Old Republic 2 - The Sith Lords Modification
Author: Darth Saboteur
Date Product Was Made: 4/15/2005 @ 11:45 PM.

This mod, like the "Darth Malak - IMPROVED" mod, is made for those players who're having too much of an easy time with the final boss battle. If Traya is hard enough/too hard then do NOT put this file into your override folder. Again like the last mod, this mod's very blatant about the fact that our favorite Dark Lady's been pushed up a notch or two for some players.

What I did: I improved her stats by going to her UTC file and upping the stats manually by 10, giving her all the Force powers/forms, all the Lightsaber forms, increasing her Challenge Rating from 20 to 25,
increasing her saves, improving her Treat Injury stats from 0 to 20.

Her stats were originally:

Strength: 28
Dexterity: 26
Constitution: 50
Intelligence: 26
Wisdom: 64
Charisma: 18
Hit Point(Base): 50
Natural AC: 0
Fortitude: 5
Reflex: 12
Will: 0

Her stats now:

Strength: 38
Dexterity: 36
Constitution: 60
Intelligence: 36
Wisdom: 74
Charisma: 28
Natural AC: 10
Fortitude: 15
Reflex: 22
Will: 10

I also set her Blind Spot to '0.0' and set her sight range to 'Long' instead of 'Medium'.

Important: Don't open a save game which has you at the Trayus Core where you go to fight Kreia. The current game MUST NOT be on the final conflict or the mod may not be able to take affect. If your save
is anywhere prior to this and you want to test out this mod, use the cheat consolt and type in "warp 904MAL" without quotes.

Comments and constructive feedback are appreciated. If you wish to say anything about this mod, either PM me or post at the Taris Upper City Emporium.

Instructions: Simply put the utc file in your override folder and enjoy the fight.

Special Thanks to: Fred Tetra and his KotOR Tool, Shem and DarthZayne for the inspiration for me to create this modification, and Holowan Laboratories for their mod tutorials.