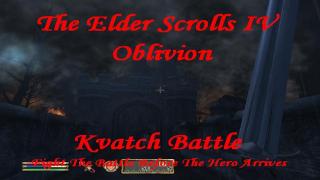 Views: 901
1.6
LegoManIAm94
1-Description
2-Poll
3-Requirements
4-Installing
1-Description
Did you want to fight the battle of Kvatch before the hero of Kvatch arrives? Now you can. You can be a swordsman, archer, use a mace, or just use your magic spells. This is a war mod. What happens is that you will be apart of the Kvatch Army and fight the dremora's. Once a guard or dremora dies they will respawn at a specific spot. The battle will never end. It is like Firefight from Halo 3 ODST. To start this mod you will get a spell added to you when you load your saved game and just cast it at midnight. Then you will be in Kvatch and all the items on you will be removed and you will get your Kvatch Armor and longsword and bow with 50 arrows and a mace. Then fight the battle. You must be at level 10 or higher to use this mod. ONCE YOU START THE BATTLE DO NOT SAVE.
2-Poll
Post you high score Here at this poll.
3-Requirements
Oblivion

4-Installing
To install just download then extract folder and drag plugin into your data folder.