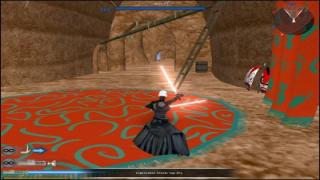 Views: 536
1.0
Squipple
About the map:

This location was featured in the Clone Wars cartoon. It's set in and around the village, and includes the Nelvaanians that inhabited it in their combat gear. Although there was no combat actually in the village in the Clone Wars, it does make for a great combat location.

About the Jedi:
Squyy Dazo (Sq-why Dah-zoe) is a Zabrak trained in the art of the Sith, much like Darth Maul. Squyy didn't agree with the dark side and ways of the Sith, and was able to disband. The Jedi order couldn't trust him, and would not take him in, so he went to hide from the Sith on the planet of Nelvaan. The Nelvaanians took him in and gave him the tattoos on his face. Since the planet is so cold, he developed a new force power, force heat, to keep himself warm. In its most extreme use, it can be a very powerful weapon, but only at short range.

The jedi's name, like many Star Wars names, comes from a combination of the creators names.

Asajj Ventress was also in the clone wars cartoons, so I thought she'd make a good fit here, even though she was never shown on Nelvaan. Plus Grieveous was causing problems with the map :)

Map features:
Conquest
1-Flag
2-Flag
Hero Assault
Hunt

Thanks to:
Teancum for Asajj Ventress
Schizo for setting up force heat and getting a start on the Nelvaanians
Vyse for setting up the Nelvaanian 'throw'
Epena for delegating resources
DaWeess, mysteray, and GT'ers for Beta testing
Gametoast for keeping this game alive.