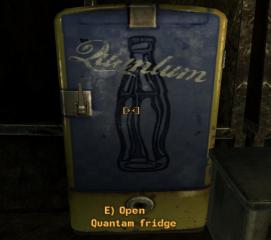 Views: 921
1.0
Kenny1131
Don't You find it annoying how there are never enough Nuka Quantums in the world? Well I did. That is why I made a fridge to change all that and leave you with enough Quantum for life.
WHAT IT DOES
Adds A fridge to your megaton house that distributes Nuka Cola Quantum in exchange for regular Nuka Cola
INSTALL
Extract esp file to your fallout 3 data directory
Extract Quantum Fridge folder to textures folder
BUGS
None as yet but post if there are any.
CREDITS
Feek for his Antique Quantum Fridge retexture which gave me the inspiration for this mod