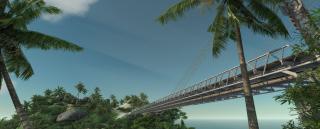 Views: 2,658
1.0
Subberbidi
SUBBERBIDI has used a lot of objects from the MP demo to make this map.

The map contains multiple enemies, vehicles, a lot of buildings, a crashed plane and of course a bridge.

For more information check out the screenshots or the original topic (german).
Installation:
1: Go to your Crysis game folder and open Crysis Demo -> Electronic Arts ->
Crytek -> Crysis SP -> Demo -> Game -> Level.

2: There is folder called island, rename it to island1 or what ever you want.
(Do it only if necessary)

3: Copy the level folder from the downloaded file into the current game folder
(Game/Levels).

- If you want to play the normal Crysis Campaign again just rename the original island folder to island (Only after you have renamed it before).