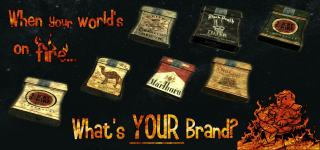 Views: 986
0.2
CptJoker
Whats Your Brand - cigarette texture megapack
This mod is a high-resolution retexture of the cigarette pack and cartons, and features a choice between seven meticulously-researched cigarette brands to enhance your gaming pleasure. Five period-correct brands (Old Gold, Camel, and two colors of Lucky Strike) and two alternative brands for those wanting something a little different (Player's Navy Cut and Black Death.)

Also included is an optional white-filter cigarette retexture, for the ultimate in smoking refinement. :)

UPDATE: By popular demand I have added Marlboro as an option, and also revamped the textures. Now they look twice as dirty as before!


== INSTALLATION ==
1. Select your choice of brand from the available folders. Unzip the "textures" folder into Fallout 3\Data.

Optional: Move the "textures" folder from the "(Optional) White Cigarette" folder into Fallout 3\Data (if you want white-filter cigs.)

2. Edit your ArchiveInvalidation.txt (or create one in Fallout 3\Data) with these additional lines:

textures/clutter/junk/cigarettecarton.dds
textures/clutter/junk/cigarettecarton_n.dds
textures/clutter/junk/cigarettepack.dds
textures/clutter/junk/cigarettepack_n.dds
textures/clutter/junk/cigarette.dds

3. If you have not yet done so, you must also edit the line in fallout.ini (found in My Documents\My Games\Fallout3) to this:

bInvalidateOlderFiles=1


== UNINSTALLATION ==
Remove the files from the textures/clutter/junk folder:

cigarettecarton.dds
cigarettecarton_n.dds
cigarettepack.dds
cigarettepack_n.dds
cigarette.dds
(Also remove any entries you added to ArchiveInvalidation.txt)

== VERSION HISTORY ==
0.1 Initial release

== NOTES ==
I do not endorse smoking, nor do I encourage anyone to start. This mod is simply for enhancing your ingame realism as per your preference!