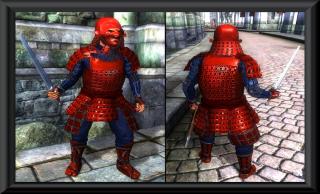 Views: 1,616
1.0
LHammonds
Name: Ghogiels Samurai Armor Plugin
Version: 1.0
Date: 6/17/2008
Category: Weapons and Armor
Requirements: Ghogiels Samurai Armor (Resource) - http://www.tesnexus.com/downloads/file.php?id=17878
Author: LHammonds
Source: TESNexus
Homepage: OBMM How-To Site
Description
This mod adds Ghogiel's Samurai armor for sale at A Fighting Chance in the Imperial City Market District.
Install
1. Download and extract Ghogiel's Samurai Armor resource to (install folder)\Oblivion\Data\
2. Extract this archive and copy the .esp file to (install folder)\Oblivion\Data\
3. Start Oblivion Launcher, click 'Data Files', place a checkmark beside the .esp file.
Uninstall
1. Start Oblivion Launcher, click Data Files, uncheck the .esp file.
2. Delete the .esp file from \Oblivion\Data\
Incompatibility
None known.
Known Issues or Bugs
None.
History
1.0, 2008/06/17 - Initial release.
Future
I will eventually incorporate this armor into the Ghogiels Armor mod along with rounding out the set to make it complete (in my eyes).
Contact
You can find me on the official Elder Scrolls forums as 'Conan_Lon'
You can find me on TESNexus as 'LHammonds'
Credits
Thanks to Ghogiel for providing the modder's resource.
Thanks to Bethesda for creating Oblivion.
Thanks to TESNexus for the a one-stop-shop resource for authors and players.
Thanks to God for creating us all.
Tools Used
a href="http://www.tesnexus.com/downloads/file.php?id=11680">ESPluginCracker
Paint Shop Pro
Readme Generator
TES Construction Set
Licensing/Legal
You can do whatever you want with this mod but don't complain to me if it doesn't work or your PC blows up.