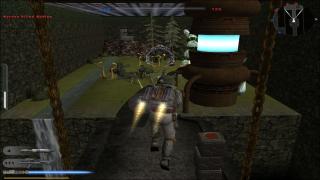 Views: 604
1.0
Squipple
Here's my first map, Ancient Research Facility

There's no specific story behind this. I'll leave it up to you to use your imagination.
Final Version includes:
- Conquest
- 1-Flag CTF
- 2-Flag CTF
- Hero Assault
- Hunt - The Rebel's side has tamed the Acklay and it will help in the battle against the Wampa.
- Acklay and Cave Wampa locals
- All indoor but with a wide variety of rooms allowing for close combat as well as long distance.
- fx including steam, fireflies, glow, and godrays.
- Minimap
Known issues:
- In multiplayer, Acklay will show up on one of the teams on the stats page, but only on client side, not on host. I'm unsure if this is even fixable.

- Once in a while the team spawning on the pyramid at the beginning of the round in conquest will show them as having the Arboretum CP as well, but if you try to spawn there, it will spawn you at the pyramid anyway. This is also in multiplayer, and only on the client side.

-In hunt, Acklay freaks out if you tell him to follow you, and will spaz out and push you around..possibly through walls so you will fall to your death. This is a combo file issue that AFIK noone has a solution to. Best advised not to try to have him follow. But he is a great body guard if you just stand under him and let him take care of Wampa :wink:

- I tried adding deathregions in places where wallhackers might get, but droidekas are just too sensitive to them. Their proximity for deathregions to destroy them is much greater than every other character, making it nearly useless to have deathregions in small areas. I only have blanket deathregions below the map (which will take care of about 90% of allhacks, since you just fall to your death), and one above the entire map, in case there are jettroopers that somehow try to fly above the map.

This is the final version, feel free to distribute.
Thanks for the help:
Teancum
Minilogoguy
Lord Bandu
00M-9
Psychofred
Epena
Vyse
Guru and crew (for keepin up GT)