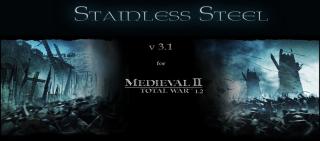 Views: 10,790
3.0
Anonymous
Stainless Steel - A mod for Medieval 2 Total War.
Note: You need 1.2 patch for this mode to work
New Faction: Order of the Knights Templar
7 totally Unique Units with new cool Descriptions
All other units have specific Templar Knight Designs
Historical Characters and new Templar Knights Events
New Unique Titles which represent the Templar Hirarchy

30 New Provinces, well spreaded and historically correct:
(Exeter, Bari, Oporto, Arta, Barcelona, Belgrade, Balearic Isles, Bryansk, Lyon, Athens, Munster, Ancona, Isle of Lesvos, Warsaw, Diyarbakir, Salzburg, Kirov, Melilla, Salamanca, Groningen, Clermont, Thebes, Mecca, Palmyra, Astrakhan, Tortosa, El-Oued, Sinop, Norrkping, Benghazi...)
More Resources on campaign map, including new valuable resources in the "outbacks" of the map.
Some Small Map Tweaks: trees on isles, sligthly changed borders, new passage in Africa
AI Armies much more improved
Proper Mix of Infantry, Missiles, Cavalry and Artillery.
AI produces more Elite and Heavy units.
This was done without changing any unit costs
Mercenaries
New mercenaries for the Early and High Medieval Period:

Macemen
English Huscarls
Light Swordsmen
Swabian Swordsmen
Andalusian Infantry
Mercenary Saracens
Axemen.
Greater mercenary variety
Mercenaries can have experience
Less mercenary missile units
Regions have more of mercenary special units
Titles/Traits/Ancillaries
Titles for all Cities and Castles and for both Islamic and Catholic/Orthodox factions and with important bonuses in various settlements.
Much new Traits, Transferable Titles and Ancillaries (Blood, Broads, & Bastards v1.9 or 2.0)
New Patriarchats for Orthodox Factions available
Many broken Character Traits and Ancillaries fixed
Knights Templar Titles
Much more interesting Historical Events
Events for Orders, Inquisitions, Cultur, Battles, ...
Including a New Era (High Period) Event which affects unit & mercenary recruitment
Triggered Events for Falls of Important Cities and Regions. This can also give bonuses for the victorious faction.
Agents and Characters
Merchants income increased, movement increased
Inquisitors less effective
Spy's chances to open gate decreased, movement increased
Princesses movement increased
Diplomats movement increased
Priests movement increased
Captains are less likely to rebel
Assasins slightly improved, movement increased
Imam's required Piety to call a Jihad raised
Slightly less Heretics and Rebels
Little more Witches
Settlement Changes
Unit recruitment depends on barracks
More logical recruitment, for example cities can build more ships & artillery than castles.
Fortesses/Citadels & Large/Huge Cities have 4-5 recruitment slots
Castles-Citadels have 1-2 free upkeep
City growth slightly reduced
Slightly lowered law bonus in cities
Mine Income slightly increased
Tax Income slightly decreased
Early/Late Generals rarely recruitable in castles/citadels
Byzantium can build Highways
Therefore, Title bonuses for settlements get more important
Other Changes
Historically more accurate Faction Names
18 Factions Playable
Win Conditions distended to 55 regions
Show Date as Years
Conquering the Aztecs is much harder
Mongol/Timurid armies slightly weakened
Money Script to support AI Factions
More logical faction standings
Worse relations Papal States Islamic factions
Better relations Turks Egypt
BATTLE MAP
Unlimited men on battlefield allowed
Longer Lasting Battles due to slightly higher morale
Added Missing Units
Dismounted Gothic Knights
English Armored Sergeants
Dismounted Broken Lances
Added Mounted Longbowmen for custom battles
Added Additional Units
Dismounted Order Knights
Dismounted Armored Clergy
All Longbowmen ranges increased
More realistic battle map movement
Artillery Morale lowered
(Great) Bombards, Serpentins can deploy Stakes
Strenght of Gates slightly increased
Venetian HI/Archers armour bug fix
Ballista/Cannon Tower Fix (zxiang)
Ballista Tower Fire Rate reduced
Cannon Tower Range reduced
Light/Heavy Cavalry Charge slightly reduced
Janissary HI & D. Gothic Knights improved
(temporary) Cavalry Charge Fix
Some unit stats balanced
GRAPHICS
Completely new Faction Symbols & Menu Design by Alletun
New Splash & New Loading Screens by Alletun
New textures & Symbols for Campiagn Map Interface by Alletun, KK
Campaign Map Banners for Scotland and France historically accurate
New unique Unit Textures for all European Early & High units (Burrek)
New unique Unit Textures for all Feudal & Mailed Knights (Burreks Knights&Knaves)
New unique Shield Textures for: Scotland, Spain, Poland, Denmark, France
New unique and much better Unit Textures & Banners for Byzantium (Whitewolf)
More spectacular Sky variations and little more blood (improved Horsearcher's skymod)
Improved Captain textures (plasticfigurine)
Improved Musket & Artillery Smoke (Headlock)