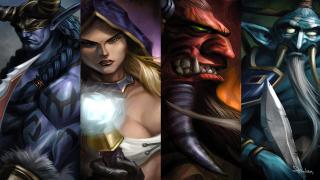 Views: 3,169
6.78b
The DotA Team
Here we have the latest and greatest release for all of the DoTA fans! Once again, improvements have been made to the incredibly popular 'DoTA Allstars' map, and we have it here, available to you! This version comes complete with a serious optimization and some bug fixes.

DotA stands for Defense of the Ancients, it's a free mod for Warcraft 3: The Frozen Throne. The purpose of the game is to defend your Ancient and try to destroy the opponents Ancient. The ancients are located deep in both bases, which are located at the top right and bottom left corners of the map. There are over 70 heroes that differ greatly in play style. Each of these heroes have been carefully designed so they are both balanced and unique.

This map is updated frequently, sometimes to add new heroes, fix bugs or to make a balance update. The strategies possible with DotA are pretty much endless, choosing the wrong item and hero combination can mean the difference between a win and a loss for your team. The gameplay in DotA Allstars can be classified as relatively fast because as the game progresses any small mistake you make can be fatal to the overall team.


Tournament Map
Download the Tournament Map here


Changelog for v6.78b
- Fixed a bug that allowed some players to control two heroes
- Fixed being unable to easily tell when Tombstone was Decrepified
- Fixed False Promise interaction with Shallow Grave
- Fixed Quelling Blade doing damage to allied wards
- Fixed the passive regen missing on Spirit Bear's Armlet
- Fixed Empty Bottle courier slow lasting a couple extra seconds after it is filled
- Fixed Buyback cooldown display not always being accurate
- Fixed Rupture hurting couriers
- Fixed some issues with targeting near units with Stone Caller
- Fixed Flak Cannon vs Gem
- Fixed Panda with Bloodstone being unable to revive
- Fixed swapping costing you an extra 100 gold if you swap after repicking a new hero
- Fixed multiple swaps costing you more gold
- Fixed Bloodrage removing Doom and stuns from allies
- Fixed Bloodrage removing Elder Dragon Form
- Fixed various tooltips
- Fixed a bug with Courier haste speed when interacting with slows
- Fixed Bloodstone charges being slightly inaccurate when activating the item manually
- Fixed Rupture piercing Shallow Grave
- Fixed False Promise interaction with Armlet and Power Treads
- Fixed Shadow Demon base int
- Fixed Mortal Strike interaction with Linken's Sphere
- Fixed an Aghnaim's Scepter droppability issue
- Fixed aoe XP/Gold with deny/neutral/suicide
- Fixed Aghanim Reaper buyback not being prevented properly if someone else gets the last hit
- Fixed some minor issues with the values on Eye of the Storm
- Fixed Geomagnetic Grip being wasted if targeting ground and no nearby Rock is found to pull

- 修正了一个导致某些玩家可以控制2个英雄的bug
- 修正了难以明显分辨墓碑是否被衰老的问题
- 修正了虚妄诺言和薄葬的相互作用
- 修正了压制之刃可以对己方的守卫造成伤害的问题
- 修正了熊灵携带莫尔迪基安的臂章时被动生命回复无效的问题
- 修正了空瓶对信使造成的减速即使在魔瓶装满后依然存在数秒的问题
- 修正了买活的冷却时间有时显示不正确的问题
- 修正了割裂可以对信使造成伤害的问题
- 修正了不能紧贴单位施放召唤岩石的问题
- 修正了高射火炮与真视宝石的相互作用
- 修正了携带血精石的熊猫酒仙无法复活的问题
- 修正了如果你重选了一个英雄,交换仍然要再花费100金钱的问题
- 修正了多次交换会花费更多金钱的问题
- 修正了血之狂暴可以移除队友身上的末日和眩晕效果的问题
- 修正了血之狂暴会移除真龙形态的问题
- 修正了许多提示文字
- 修正了一个关于信使的加速和减速相互作用的bug
- 修正了手动使用会导致血精石的能量点数计算不太准确的问题
- 修正了割裂无视薄葬的问题
- 修正了虚妄诺言和莫尔迪基安的臂章及动力鞋的相互作用
- 修正了暗影恶魔的基础智力不正确的问题
- 修正了致死打击和林肯法球的相互作用
- 修正了阿哈利姆神杖不能丢弃的问题
- 修正了队友反补/中立生物击杀/自杀产生的的范围经验/金钱问题
- 修正了如果由其他人造成致死伤害,神杖效果的死神镰刀不能正确禁用对方买活的问题
- 修正了一些关于风暴之眼的数值的小问题
- 修正了如果指定地面目标却没有在附近找到可拉动的岩石,地磁之握会被浪费的问题


Changelog
Changelog for v6.65

New agility hero - Murloc Nightcrawler

Range: 128
Movement Speed: 305
Hero Type: Agility

Agility: 21 + 2.0
Strength: 21 + 1.0
Intelligence: 16 + 1.6


Dark Pact
Slark calls upon deities of the swamps to seal a dark pact. Sacrificing some of his lifeblood, Slark is redeemed of all negative effects. After 2 seconds, a dark wave of destruction emits from the Nightcrawler, dealing damage to himself as well as all nearby enemies.

Damage: 75/150/225/300
AoE: 325
Manacost: 55/50/45/40
Cooldown: 10

Deals half the damage to you immediately as part of the cost.



Pounce
Surges directly forward and latches on to the first enemy he hits, binding it with chains of darkness. The enemy is unable to move more than 275 distance away from the point of impact for 3.5 seconds.

Changelog for v6.58b

* Fixed a rare bug introduced last version with Nevermore's ultimate
* Fixed a bug with Cranium Basher
* Fixed a suicide bug with Heartstopper
* Fixed a bug with Overload
* Various tooltip fixes
* Fixed some rare glitches that could cause some abilities to malfunction
* Fixed various -switch related bugs
* Switch now works if all but one player votes for it, instead of requiring 100%
* Fixed truesight on The Frozen Throne
* Decreased Undying's model size a bit
* Fixed conflicts between Viper Strike and Venomous Gale
* Fixed Soul Rip targetting problems on Tombstone
* Fixed -mo/-ro in -gameinfo
* Fixed a bug when picking up invisibility rune while under the Phase effect from Phase Boots
* Fixed -mr failing to be recognized as a gamemode
* Fixed Rapier damage values when being carried by a non-owning player


6.51 Changelog
* Fixed a bug with Kellen's Dagger that caused it to sometimes not get disabled when hit
* Fixed Land Mines tooltip
* Increased cast range of Kelen's Dagger
* Undid previous Bottle changes. Bottle now works as follows: Costs 600 gold, does not require mana to refill, auto-fills it when you are near fountain, rune refills it to full, resells at 50% like normal, purchasable at base only, regenerates less than previously, has no usage cooldown.
* Fixed Medusa's Mana Shield from triggering Essence Aura
* Fixed Searing Arrows' tooltip
* Changed Hyperstone purchase hotkey to fix a conflict
* Fixed a bug with Invoker when creating illusions
* Updated Kelen's Dagger tooltip
* Undid some of Morphling's base damage buff from last version
* Fixed Bloodrage tooltip
* Fixed Pulse Nova and Invoker's Reagents from triggering Last Word
* Smokescreen interrupts teleportation once again
* Color coded Invoker's spell descriptions (203050)
* Improved Sange's percentage and Yasha's percentage, and lowered the recent buff on S&Y a little
* Fixed Vladmir's Offering sell cost
* Increased Counter Helix chance by 2%
* Minor bonus armor in True Form
* Improved the effect timing on Split Earth (187877)
* -swapcancel code is triggered when a swap is successful (to prevent other accidental swaps)
* Improved Shuriken Toss cast range
* Added new Backtrack icon (183079)
* Changed Battlefury recipe slightly
* Lowered Poof casting time from 2 to 1.5 seconds
* Lowered Elder Dragon Form's manacost and cooldown a little
* Added neutrals field to -cs
* Changed Phantom Edge's secondary ability from evasion to magic resistance
* Replaced Phantom Assassin's Shadow Strike with a different similar ability (132694)
* Fixed a minor coding bug with Time Lapse
* Fixed Impale based spells from moving Juggernaut during Omnislash
* Added new icon for Melting Strike
* Reduced some lag with Invoker
* Fixed level 1 March of the Machines doing slightly less damage than intended
* Removed stock cooldown on Ironwood Branch
* Added a new system that tracks when you help an ally kill a hero (no gameplay ramifications at this point)
* -swap is now allowed in -sd
* Fixed some minor neutrals' vision and pathing glitches
* Lowered level 1 and 2 cast range on Replicate
* Lowered Phantom Assassin's cast animation time
* Fixed a bug with Exorcism's cooldown after leveling Witchcraft
* Fixed some issues with -ah
* Refined how some kill related messages and sounds are shown
* Increased mana regeneration on Perseverance by 25%
* Lowered Buriza recipe by 250 gold
* Changed Voodoo Restoration to heal over a smoother interval (same total regen)
* Lowered Manta Style's cooldown a bit
* Fixed a bug with Voodoo Restoration and Impales
* Fixed a bug with invoker in -spreverse
* Fixed some inconsistencies with tower visions (TheLoneWolf14)
* Increased duration of Lycanthrope's wolves a bit and allowed them to attack air
* Temporarily disabled -unstuck command


6.50b Changelog
* Fixed a bunch of bugs reported


Hero Changes
* Removed manacost on Mana Shield activation
* Changed Leap's cooldown to scale with levels
* Improved Juggernaut's movement speed
* Implemented a better silencing mechanism in the Black Hole area to prevent spell execution regardless of cast animation time
* Lowered Drow Ranger's Agility gain per level
* Changed Drow Ranger's Marksmanship ultimate
* Increased Morphling's base damage
* Macropyre's cooldown no longer increases per level
* Added an extra bounce to Chain Frost
* Reduced Sprint's damage amplification
* Increased Maledict's area of effect by 15
* Changed Spectre's Dispersion
* Redesigned Visage
* Improved casting range on Acid Spray
* Changed how Song of the Siren levels up
* Reduced cooldown on high level Shapeshift
* Improved armor on Enigma's Eidolons
* Reduced Expulsion's cooldown and manacost
* Improved Keeper of the Light's attack animation
* Improved Scattershot's damage range from 10-35 to 20-35
* Improved Alchemist's base Intelligence and growth
* Slightly improved Psi Blades' spill width and range
* Improved Chemical Rage
* Increased Phantom Lancer's Strength gain
* Increased cooldown on Psionic Trap from 7 to 14 seconds
* Improved lifesteal on level 2 and 3 Insatiable Hunger
* Reduced Replicate's manacost and cooldown
* Improved Troll's base movement speed
* Decreased Rampage's movement speed bonus and cooldown
* Improved Spirit Bear's Demolish
* Increased Lightning Storm's cooldown by 2 seconds
* Reduced cooldown on level 4 Metamorphosis from 135 to 110 seconds
* Reduced Lina's movement speed by 5
* Improved Sand Storm
* Reduced the slow on Epicenter
* Improved range on Drow Ranger's Trueshot Aura
* Improved cooldown progression on Insatiable Hunger
* Reduced Sven's base armor
* Improved Enigma's movement speed
* Modified initial projectile speed and effect on Paralyzing Casks
* Improved Enfeeble
* Improved Auto Fire's area of effect and duration
* Reduced Queen of Pain's Blink range at early levels
* Improved Earthshaker's movement speed
* Zombies now give a bit less bounty
* Reduced Gravechill's cooldown a bit
* Increased Primal Roar's cooldown a little bit
* Eclipse's damage is based on Lucent Beam level and doesn't ministun
* Lucent Beam ministun duration increases per level (0.6 level 4 up from a constant 0.01)
* Lowered Eclipse's manacost and gave it constant cooldown progression
* Increased Lucent Beam's casting range and lowered manacost slightly
* Improved cast range on Expulsion and Fire Storm
* Improved Ravage a little (it became slightly less effective with the Impale recodes)
* Reverse Polarity's cooldown is now the same on all levels
* Changes Queen of Pain's blink cooldown from 12/9/7/5 to 12/10/8/6 seconds
* Removed true sight from Spin Web
* Added some extra movement bonus on higher level Spin Web
* Improved Keeper of the Light's movement speed
* Improved Storm Spirit's base armor
* Lowered Mirror Image's cooldown slightly
* Improved slow on Drunken Haze
* Improved movement bonus on Witchcraft
* Lowered Searing Arrows' cooldown
* Improved Reaper's Scythe's leveling a bit
* Changed Purification's damage type to Pure
* Lowered Axe's starting Agility and increased his starting Strength
* Lowered Death Coil's cooldown
* Improved Undying's base armor
* Improved Meepo's base Strength
* Rebalanced Pit of Malice
* Increased AOE on Firestorm
* Reduced the search area for Omnislash
* Changed Bloodrage's stats a bit
* Lowered level 1 Mana Void's manacost
* Lowered Exorcism's damage return threshold and cooldown
* Restored Bone Fletcher's old Wind Walk speed bonus
* Lowered Geminate's attack cooldown
* Slightly improved how Medusa's Purge levels

Item Changes:
-------------
* Redesigned Eul's Scepter of Divinity
* Redesigned Orchid Malevolence
* Redesigned Guinsoo's Scythe of Vyse
* Added cooldown to Bottle usage and reduced its sell cost
* Bottle is in full state at all the side shops once again
* Changed how Dagger of Escape works. It cannot be activated if you took damage in the last 3 seconds.
* Added Hyperstone to the Goblin Shop
* Changed Unholy Rage's lifesteal type to be the same as regular lifesteal
* Reduced price on Ultimate Orb
* Added Ring of Health to the Goblin Shop
* Added Quarterstaff to the Goblin Shops
* Increased Perseverance's damage from 7 to 10
* Added Javelin to the Goblin Shops
* Removed the stack restriction on Shiva's Guard
* Improved Vanguard a little
* Changed Lothar's Edge's recipe and stats
* Reduced Vladmir's Offering recipe cost
* Reduced Linken's Sphere's cooldown
* Removed stacking restriction from Bloodstone and improved its stats
* Improved Helm of the Dominator damage from 10 to 20
* Improved Oblivion Staff mana regen by 25%
* Quarterstaff price reduced
* Hand of Midas can now target level 6 Neutrals (Satyr Hellcaller and Dark Troll Warlord)
* Reduced Void Stone's cost by 25 gold
* Improved casting range per level of Dagon upgrade
* Improved Sange and Yasha
* Removed Flying Courier Mana and gave it a Mana base upgrade ability
* Wards now require 5 mana to be placed
* Reduced animation time and cooldown on Manta Style
* Ring of Health's regeneration increased by 1


Neutral Related
* Change some of the Scourge's top left forest area
* Changed the locations and distribution of neutral creep camp groups
* Fixed neutral spawn times in various modes
* Reworked the trees and pathing near the small Sentinel creep camp
* Increased neutral creep Centaur's aura by 5%
* Added an Alpha Wolf with a command aura in the wolves' creep camp
* Added a new creep camp group (1 Ghost with Frost Attack + 2 Fel Beasts)
* Added a new ancient creep camp group (Jungle Stalkers)
* Added a new creep camp group (1 Enraged Wildken with Tornado + 2 Wildkins)
* Added a new creep camp group (1 Dark Troll Warlord with Raise Dead and 1.5 sec Ensnare + 2 Dark Trolls)
* Changed the Furbolg's Stomp to a Clap
* Improved Satyr Hellcaller's Unholy Aura
* Neutral Ogre no longer autocast Frost Armor
* Changed the location of some of the Scourge creep camps
* Redid neutral creep spawner code for some optimizations


Bug Fixes
* Recoded impale based effects completely, fixing various ramp bugs, stacking issues and a lot of rare problems. (Burrowstrike, Impale (Lion), Impale (Nerubian Assassin), Ravage)
* Fixed Land Mines to properly detect floating heroes
* Fixed a problem with Huskar's Burning Spears that would cause him to swing incorrectly when the enemy is moving
* Fixed some bugs with Wild Axes
* Fixed some color issues on the load screen (kunkka)
* Couriers can no longer use Scroll of Town Portal to make buildings invulnerable
* Fixed Dark Rift from initiating cooldown when cast incorrectly
* Fixed a bug introduced in the recent Aghanim's Scepter changes on Crystal Maiden
* Fixed Last Word triggering off of Linken's Sphere's usage
* Fixed Berserker Rage triggering Essence Aura
* Insatiable Hunger, God's Strength and Rampage are no longer removed by Cyclone
* Fixed Javelin's odds being slightly off
* Fixed an issue with the Cheese drop from Roshan
* Fixed an issue with Forest Troll High Priest's pathing scale
* Fixed some text display problems when viewing replays (thanks DonTomaso)
* Fixed a very minor bug with Elder Form's duration
* Fixed Armlet of Mordiggian's recipe cooldown
* Fixed typo on Psi Blades
* Fixed some creep death time discrepancies (188461)
* Fixed a very minor bug with the damage mechanism on Shukuchi
* Fixed a display bug with Mode Random
* Fixed a possible abuse with Helm of the Dominator
* Fixed Overload from using its charge when attacking an allied unit
* Fixed Last Word from turning off Electric Rave


Others
* Remade Invoker as promised in 6.49
* Added a new game mode -singledraft or -sd (swiss)
* Improved Sentinel creep pathing on top Sentinel lane
* Adjusted starting gold between all game modes like ap/xl/rd/sd to be the same (all the same as xl) and for randoms to be like ar. Gold is now give at the start and income starts with the first creep wave.
* Income is now distributed in 1 gold intervals instead of in 8 gold intervals (same total gold)
* Added a new experimental command -ah
* Added a new system to detect replays used in -ah and other future applications (thanks PandaMine)
* Changed how the secondary shops work. You can now see their location and click them while in fog.
* Added new visual effect for Orchid Malevolence's Soul Burn (JetFango)
* -roll now shows the range the person entered (188889)
* Added a new command -clear to clear game messages from your screen
* Reduced model size and changed the look of the non-ancient Golems
* Added a new command -apm to show your actions per minute
* Couriers can now disassemble items (161180)
* Added text descriptions for power ups (68307)
* Delayed the creep spawn time by 30 seconds in -vr
* Made "Helm of Iron Will" item name consistent between recipes and core, using Helm instead of Helmet.
* Centered swap request notice is given to a player (182779)
* Added -afk that displays how long each player has been idle for
* Added a conditionally available -kickafk command to boot players that have been idle for more than 10 minutes (171984)
* Necronomicon icon now changes per level (190183)
* Changed durations of some power ups (Haste 45->30, Illusion 60->75, Regen 45->30)
* Moon Wells now gather water during night and get drained during day. This has no gameplay impact (60920)
* Added new tooltip text on items showing if they can be disassembled
* Improved tooltip for observer wards to detail the stock mechanics
* Added a new command -courier that toggles idle courier icon on and off (Ro-Coco)
* Added a new command -swapall to request to swap for any hero (175040)
* Improved Shackles caster effect
* Added an additional constant (7) Mana regeneration to Fountains
* Removed replenish interval from buying Clarity Potion (like tangos now)
* Changed Heartstopper pure damage type to HP loss (not a nerf or a buff, just works with things like dagger in a more desirable way)
* Improved Electric Rave icon (169997)
* Improved Luna's orb warning message (113338)



Translations
A lot of work has been done on developing a system for seamlessly translating DotA to other languages. Thanks to Danat for his help and support on it and to the new translators that have signed up. Once the initial language translation is complete, I will make a post to recruit people that wish to translate into other languages.

Thanks to the following beta testers for their help:
2MT, 4nTr4xX, Aoen, Akuryou, ArcheKleine, AtroCty, Beary, BeastPete, Blaow, Burning-Legions, Calf85, Capnrawr, Cascaderro, chiwhisox, Clogon, Cornerstone, Damican, DarkCloud, DarkMist, DBX_5TM, Dimitrii, Disrup3, EastyMoryan, esby, Eldorquo, EnderX, Evil-Zergling, Exetasi, Exy, Fellower_of_Odin, Firewyrm, frlolg, FzeroXx, gorzerk, Grunthor, Guvoverthere07, HunterX2, IEatDeadPeoples, Infrisios, Jmesch04, Ki-HunterKiller, kugelkind, landonmullet, Loki57, LulaLula, Mago-Merlino, Malakal, McGrady, Minotaar, Moimucus, Nova, PharadoX, phssy_galore, ptdprac, PudgeIsAPirate, Quicksilva, Redial2, Rifleman00, Rigor_Mortis, Ro-Coco, Rubadub, Severas, sketch-e, Sledgehmr, Slopy, spielkind, sSerenity, StokesII, Tarano, Terrorblaze, Thermald, The_Intimidator, TimeToParty, tinfoiltank, Tinker, Tomahawk_Chop, Trozz_, Truxton, Tuwl, u-nL-ike, unHOLYdoNUTS, vigi-, Volcove, whifrA, Wretch, the_white_mage, Y0UR, Zagruss, Zarent, Zethal