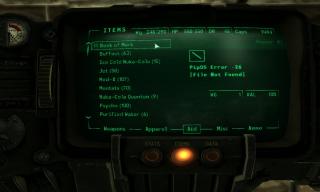 Views: 893
1.1
Diernayr
Adds a Book of Mark and Recall to the wastelands.
The book can be purchased from Moria Brown in megaton and Lydia Montenegro in tenpenny tower

Ver 1.1 Added map markers and new texture to boox
Instructions
=======
Buy the book from one of the merchants listed in the description. The book will be in the aid section of the pip-boy.Click the book and close the pip-boy.
Install
=======
1. Extract the files to a temporary location.
2. Examine the folder structure and make corrections where necessary.
3. Copy files to (install folder)\Fallout3\Data\
4. Start fallout 3 Launcher, click 'Data Files', place a checkmark beside the .esp file(s).
Uninstall
=========
1. Start Fallout 3 Launcher, click Data Files, uncheck the .esp file(s).
2. Delete the files/folders associated with the mod.

\data\meshes\clutter\books\arrowbookmap.nif
\data\textures\shack\arrowbookpsmap.dds
\data\textures\shack\arrowbookpsmap_n.dds
\data\textures\interface\icons\pipboyimages_small\s.p.e.c.i.a.l._small\blueprinticon.dds
History
=======
1.0, 2009/9/1 - Initial release.
Contact
You can find me on fallout3nexus as Diernayr
Credits
=======
Thanks to williesea for his teleporting hat script
Thanks to Bethesda for creating Fallout 3.
Thanks to Fallout3Nexus.com for the a one-stop-shop resource for authors and players.
Thanks to LHammonds for the Readme Generator this file was based on.
Thanks to the Nifskope and bsa unpacker teams
Thanks to God for creating us all.

Licensing/Legal
===============
You can do whatever you want with this mod