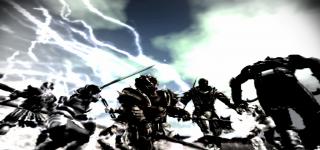 Views: 4,509
1.03
Fergus Macpherson
Bioware totally stole my idea! :p

"It's one year following the defeat of the Archdemon in Denerim, and the darkspawn have scattered across Thedas. Though disorganised, they still pose a considerable threat to those unfortunate enough to cross paths with them. Curiously, several warbands are reportedly lead by Emissaries, who are normally only seen during a Blight.

One such band wanders deep in the Silent Plains, a vast desert that borders the Tevinter Imperium. Their leader is you."

NOTE: Ensure you have the video option "Enable Frame Buffer Effects" checked. The mod will look awful without it.

INSTALLATION INSTRUCTIONS:

-Download the .dazip file from the Files tab on this page.
-Run the daupdater program. This is dragon age origins/bin ship/daupdater.exe. If you have the Steam version, your dragon age folder will be in Program Files/Steam/steamapps/common. If you have the non-Steam version, it will be in something like Program Files/EA or Program Files/Bioware
-In DA Updater, hit 'select DAZIPS' and then in the file browser select the file you downloaded.
-Hit 'install selected'
-When the DA Updater is done, launch Dragon Age.
-Press the "Other Campaigns" button on the main menu.
-Select "Emissary" then press play.

UNINSTALLATION:
-Go to My Documents/Bioware/Dragon Age
-In the "Dragon Age/Addins" folder, delete the sub-folder named "Emissary"
-In the "Dragon Age/packages/core/data" folder, delete the file "Emissary_package.erf"
-You're done!