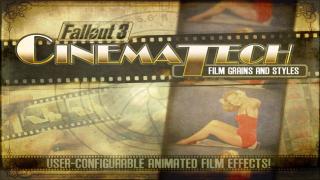 Views: 2,502
1.1.1
Gopher and MGE


It's the final piece in the visual puzzle...
CINEMATECH
adds user configurable film grains, grits, damages and dirts.

Some are harsh, some are not. You choose the look!




Nope.

CINEMATECH is designed to go easy on your hardware, but, just in case, we've added a bunch of options to enable you to choose what suits you visually and performance-wise.

Our HIGH settings are made up of THREE LAYERS of 'grain' for a very realistic combination effect.

MEDIUM settings have TWO LAYERS of 'grain'.

LOW settings have ONE LAYER of 'grain' and is probably best if you're experiencing any slowdowns.

In the ADVANCED menu, you may select the OPACITY (ALPHA) of each layer as well as which GRAIN or EFFECT is displayed. Near total control!

In this way, you can tailor-make your 'look', and you can adjust to suit your performance needs!

The CINEMATECH Controller is found in the APPAREL tab on your PIPBOY.




Oh yeah? No problem!

The IMAGINATOR has now added 8 preset CINEMATECH enhancement settings!

These settings include sepia tones, slight blurs, black and white, 70s film look, washed out 50s film, all designed to help complete the cinematic experience.

AND they're ALL configurable using the IMAGINATOR image modification tools. Use the CINEMATECH presets or any other setting for nearly unlimited options!

Mix and match to your heart's content - ALL IN THE PIP-BOY!




There is a very detailed instruction manual included in the archive.

It REQUIRES FOMM and FOSE.




Oh heck yes...

And remember:

The IMAGINATOR - Control Your Visual Destiny offers NEW CUSTOM PRESETS for CINEMATECH!




We WANT it! Have an idea for a "look"? Leave a comment!

Found an awesome combination? Post a screenshot and tell us how you got it!

We hope you enjoy!

- GOPHER and MyGoodEye

Update version 1.1.1 (1.1 fixed)
1. Slight performance and reliability boost.
2. Added three performance modes:
- Performance Mode : Shorter animated special effect, should improve performance on slower machines.
- Standard Mode : Medium length animated special effect. Still less demanding than version 1.0 of the mod, but more so than performance mode.
- Immersion Mode : Long animated special effect. Slightly better performance than version 1.0.