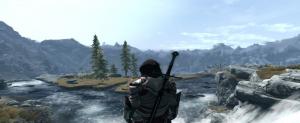 Views: 2,348
1.0
PeterTran
Hi, I personally don't like the "over the shoulder" camera when playing a non-fps, because it just makes walking around feel odd. I prefer it just right over my character's head, so I made this ini tweak for myself. But I figured some other people would like the changes as well, so I went ahead and uploaded it.

It also doesn't change the camera's position when sheathing and unsheathing your weapons, so it becomes much less annoying.


How to move the camera
I also put some easy instructions in the file to show you how to customize the camera for yourself.