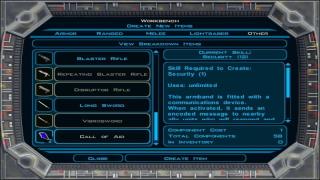 Views: 2,565
1.0
Benjamin Cool
Made by: Sekan

Email: benjamin_cool4@hotmail.com
Credits:
Silveredge9 for helping me with almost everything in this mod.
Darth Xander for he's source scripts in the jedi spawner mod for k2.
Darthdingdong for making the icon and making a description for the armband
in-game and for helping me with many scripts.
Everybody that have requested this mod
Tk102 for making dlgeditor
Stoffe for making TSLPatcher
Fred tetra for making Kotor Tool
All you guys at Holowan
DESCRIPTION:
This is a mod that spawns republic soldiers, officers, jedi guardians, sentinels and consulars if youre lightside. If you are darkside youll get Sith soldiers, heavy trooper, sith apprentice and sith master. If youre netural you get mandalorian, mandalorain elites and mandalorian commanders.

You can get it by write in the console 'giveitem call_of_aid' or you can get it if you go the the workbench and chose create new item. You'll find Call of aid on other category.
Call of Aid:
This armband is fitted with a communications device. When activated, it sends an encoded message to nearby ally units who will respond and come to your aid.

Due to a high potential for abuse, only the highest ranking Officers are permitted to use them.

INSTALLATION:
Just double click on the TSLPatcher and chose the kotor 2 dictory.
UNINSTALLATION:
Just remove the files that was placed in the override folder.
BUGS:
None, Email me if you find one.
PERMISSIONS:
Edit this mod so much you want for personal use but you have to ask me if you want to upload your changes of my mod! You Can't upload this mod on another site without my permission!

AND IS NOT SUPPORTED BY BIOWARE/OBSIDIAN ENTERTAINMENT OR LUCASARTS OR ANY LICENSERS/SPONSORS OF THE MENTIONED COMPANIES.
USE OF THIS FILE IS AT YOUR OWN RISK AND THE ABOVE MENTIONED COMPANIES OR THE AUTHOR IS NOT RESPONSIBLE FOR ANY DAMAGE CAUSED TO YOUR COMPUTER FOR THE USAGE OF THIS FILE.