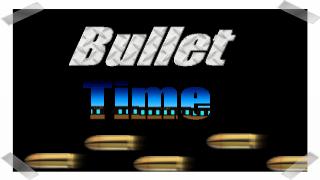 Views: 2,686
0.50
Kai Hohiro and WebSlug
Oblivion Bullet Time Mod v0.50

By: Kai Hohiro / WebSlug

VERY IMPORTANT: This Mod requires Oblivion Script Extender v0008 or later.

OBSE can be downloaded at http://obse.silverlock.org/
Download OBSE

Brief:

An update to the Bullet Time mod by Kai Hohiro. This version correctly disables focus when the player dies. No other changes.

VERY VERY IMPORTANT: Do not quit the game while you are in Bullet Time. Doing that will cause you to be stuck in Bullet Time until you recast the spell.

Yes simply recasting the spell will fix this, so it's nothing horrible.

What's new in version 0.50?

- Tweaked by WebSlug
- The Focus ability now de-activates when the player dies
- The power will still be active if you quit, disable focus before hand

*************************

1. INSTALLING THE PLUGIN

*************************

Extract the Archive into your OblivionData folder

Version 0.50 features two *.esps, ACTIVATE ONLY ONE!

Bullettimemod.esp is the classic version that adds a book into your inventory that gives the player the spell Focus when read.

BullettimemodSetkey.esp binds the ability to enter Focus to the key "G". To leave Focus you need to press "H". This is automatic and you dont receive the book of Focus anymore, but it takes a few seconds to initialize the script after you load the game(about 1-10 seconds depending on system). Furthermore there is no spellcasting animation anymore.

*******************

2. Mod Description

*******************

THIS IS A BETA

The mod is still in early development. This version is an absolute barebones version that
only adds the ability to go into Focus (aka Bullet Time) along with Visual and Audio effects.

a) Bullettimemod.esp

When you load your game for the first time with this mod the Book of Focus will be added into
your inventory. Read it and you will gain the ability to Focus. You can find it in your spell book under lesser powers. Focus can be toggled in and out by simply recasting the spell now.

b) BullettimemodSetkey.esp

Entering Focus is automatically set to the key G, leaving Focus is set to key H.

During Focus the player and the world will move much slower, allowing the player
to easily dodge missile and melee attacks, while giving him a much greater precision
for his own attacks.

Additionally it adds visual and audio effects while in Focus.

*************

3. Conflicts

*************

None known and highly unlikely that there will be any.

*******************

4. Version History

*******************

0.50 If the player dies Focus will automatically be de-activated.

0.43 Added new sound on gaining Focus, reduced speed boost, tweaked visuals, tweaked Bullet Time, added a hotkey version

0.4 Made Focus togglable and added a speed boost to the player during its duration

0.3 Tweaked effects

0.2 Added visual and sound effects

0.1 BULLET TIME!

************************

5. Contact Info

************************

Feel free to PM me on the official TES boards, my nick is Kai Hohiro.

Any feedback is appreciated.

***********

5. Credits

***********

Special thanks to Tyukashi and Calaghan for testing the mod.

They provided awesome input that was invaluable for tweaking the mod.