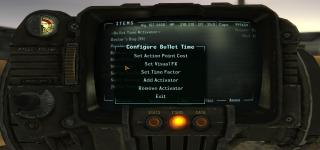 Views: 3,357
1.2.2
Clanfear
Bullet Time Mod for Fallout: New Vegas

Version: 1.2.2


Mod mostly based on DK_BulletTime by Dunderklumpen, so all credits should go to him, even readme based on his version too :D
[DK_BulletTime]
http://www.fallout3nexus.com/downloads/file.php?id=1193


Changes
=======

1.2.2
- Add few buttons to config menu ("Add Activator" and "Remove Activator")
- improved Visual Effects to make more expressive

1.2
- Add new Time Factor option - Turbo Mode (0.35 TF for enemies, don't slow down player)

1.11
- now again non-quest item (bind fail with quest item)

1.1
- add few Visual Effects
- now quest item (can't drop, can't sold)

1.0
- first releas

Description
===========

Bullet time is the ability to slow down the world around you, allowing you more time, to aim, make decisions, and shoot. While time is slowed, you will burn Action Points. When your action points reach 0 normal time will resume. While you are in Bullet Time you can turn it off, saving those precious Actions for VATS, or another burst of Bullet Time.

Using BulletTime
===========================

To Turn on Bullet Time, go to the Aid section of your inventory and use the "". You can hotkey this Aid, and this is highly recommended. To turn off Bullet Time simple use the Bullet Time Activator while Bullet Time is turned on" (or press the appropriate Hotkey again). The Bullet Time Activator is an on-off switch.

Configuring BulletTime
======================

When you install BulletTime, an item will be placed in the "Aid' section of your inventory called "[Bullet Time Config]" (it will be at the bottom of the list). When you click on "[Bullet Time Config]" (make sure you are in Pip boy mode, don't hotkey this Aid item). A Dialog will appear allowing you to configure the following:

Set Action Point Cost - set the level at which BulletTime uses Action Points. The higher you set this, the shorter the available BulletTime will be
Set Visual FX - choose from a few Visual Effects while BulletTime is on.
Set Time Factor - set time factor, how slow your time is
Add Activator - add if you accidentally drop or sold one
Remove Activator - remove if you have more then one


Installing BulletTime
========================

Expand the archive and then copy Clanf_BT.esp into the Data folder of your fallout Directory. Using Fallout Launcher, make sure that the Clanf_BT.esp is flagged as active.

When you run Fallout NV, as soon as you leave Doc's House, for a new game, or the first time you load an existing game (if you have left Doc's House), you will receive the following items

- needed to activate BT
[Bullet Time Config] - used to configure BulletTime
Bullet Time Tool - keep this in your inventory to use BT


Reinstalling/Uninstalling
=========================

There may be circumstances where you want to uninstall/re-install Bullet Time. Here is you you do it.

1. Using the Fallout NV Launcher, unselect the Clanf_BT.esp.

2. Start Fallout NV, load your game, All the items should be removed from your character. Save this game.

That's all you need to do to uninstall. If you want to reinstall it...

3. Quit Fallout NV and re-select Clanf_BT.esp

4. Start Fallout NV, load your game, you should see the "Bullet Time quest complete, and the BT items should be added to your inventory again.

Compatability
=============

* BulletTime will conflict with any mod that changes the Global Time Multiplier (GTM), it changes the GTM to slow down time, and again to resume normal time.


Acknowledgements
================

Dunderklumpen for the original mod, which it essentially is.