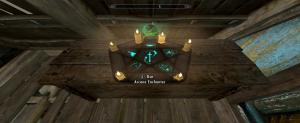 Views: 1,365
1.2
warriorgoel
Adds an Enchanting Table to the player house Breezehome. This is a quality of life improvement that makes crafting much more convenient in Whiterun. With this mod, you won't have to run all the way up to Dragonsreach just to enchant your items.

Version: 1.2
Author: WarriorG0el

I love clear feedback, good or bad! Let me know if there's anything else you'd like to see in this mod, or any bugs that I can fix.



Release Notes
1.0 (Release) - Added Enchanting Table to Breezehome.
1.1 - Added 2 Common (Filled) soul gems to the enchanting table. Confirmed rare random alchemy satchel spawns on alchemy table.
1.11 - Fixed bug where soul gems and stands would appear before alchemy lab was purchased.
1.12 - Fixed bug where a second Enchanting table was appearing in the Breezehome bedroom whether decorations were purchased or not.
1.2 - Added some mood lighting to the candles.

Thanks very much!



Other WG Mods
Item Rewards For Bounties: Adds a random leveled item as a reward upon quest completion, and changes bounty rewards to 250 gold for Bandits/Forsworn, 500 gold for Giants and 750 gold for dragons.

Undying Companions: Makes all companions essential, meaning they cannot die by friendly or hostile damage. Exceptions: Erandur, Cicero and Eola.

Enhanced Alchemy XP - Slightly increases Alchemy XP gain rate (20%) to balance with other skills such as Smithing. Still balanced, more fun.

Improved Imperial Racial Abilities - Changes Voice of the Emperor ability to a +10 Speech bonus for people like me who never use Voice of the Emperor when they roll Imperial characters.

GIANT Animals - Makes all animals, plus trolls, 3x bigger than normal. Just subscribe and walk around Skyrim - it's GREAT for kicks.

Visible Slaughterfish - Makes only slaughterfish 3x bigger so you can see them more easily.

Evil Slaughterfish - Makes slaughterfish much more dangerous: 3x damage, 2.5x speed, 3.1x attack chance and 2x health.

Skyscraper Giants - Makes giants 3x bigger.

http://steamcommunity.com/id/WarriorG0el/myworkshopfiles/