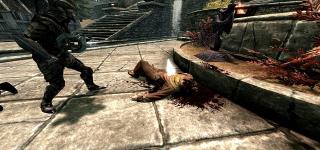 Views: 6,189
1.0
Monkmidon
Important note:

Currently, because of a bug in the engine, this mod will cancel out some vanilla perks. I believe the only ones it affects are:
Bullseye (archery)
Warmaster (Two-handed)
Limbsplitter (Two-handed)
Paralyzing Strike (One-handed)
Hack n Slash (One-handed)

It will be a while before I find a work around to this, but for now, you will have to choose. (If you ask me, those perks are kinda lame anyway, ;P...).

So, sorry for the inconvenience :(

Important note #2:

IF USED WITH "Enhanced Blood Textures" by dDefinder, MAKE SURE TO LOAD MY FILE "BleedEffects" AFTER "Enhanced Blood Textures."

An easy way to do this is to use the Nexus Mod Manager, http://tes.nexusmods.com/content/modmanager/, where you can rearrange the load order of the plugins.

Another way that should work is to, when starting up Skyrim, go to Data files, check "Enhanced Blood Textures", and uncheck "Bloodier Combat", then launch the game, exit, and then check "Bloodier Combat", and launch the game again, and hopefully it will work.


NAME: Bloodier Combat
VERSION: 1.1
AUTHOR: Monkmidon
=====================================================================================



INTRO:
Have you ever wondered why impaling foes with a giant icicle never leaves them in a bloody mess, or why decapitating people has never left them gushing out blood from their necks? Well here is the solution.
Bloodier Combat adds bloody effects to various spells, like Ice Spike, Fireball, and Ice Storm, and also adds in scripted effects for spell perks as well as melee perks, and archery.



FEATURES:
- Ice Spike/Spear can now draw blood, and has a chance to leave your foes bleeding (visual; does not add more damage).
- Deep freeze perk can now shatter opponents in an icy explosion on death.
- Armsman, and Barbarian perk now causes melee attacks to draw more blood, and finisher moves cause foes to bleed profusely.
- Overdraw perk now causes arrows to draw more blood.



BUGS:
- Some of the blood decals will appear as red rectangles, usually when the target bleeds. This is due to this mod conflicting with Enhanced Blood Textures, although it is preventable if you load Bloodier Combat after Enhanced Blood Textures.
- Blood sprays from melee attacks don't always draw blood.
- A few vanilla perks are canceled out. See top of description for details.

HISTORY:
v1.1
-Fixed issue with some spell effects causing mechanical, ghost, and undead creatures to bleed.
-Fireball does not draw blood any more.





Have fun, and I hope you like it! ;)

-Monkmidon