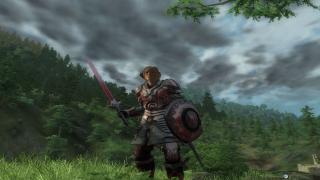 Views: 1,603
1.0.1
Unit Alpha
This is the first release of a mod that give you a some weapons called Blood Glass, derived from the fact that they are blood red. You can get this armor after battling some enemies in a cave. There are retextures of every glass item. This is my first ever retexture (of the original glass weapons) and I have made a related mod, Blood Glass Armor. Please feel free to download that as well; it looks great with the weapons.
How to get the Weapons:
To get the armor, you must travel to a new cave called The Lost Mine near Cheydinhal. The fast travel icon will be on your map but you have to find it to fast travel there. When you get there you need to battle your way through a few enemies and get the weapons from a chest in the last big room where there is a bright yellow orange light and a bandit leader.
Conflicts:
None known so far (email me with them if there are any, I will try to fix them.)
Required Mods:
None
Installation:
To install, extract the Meshes, Textures, Readme, and the .ESP into your Oblivion Data folder, confirming overwrites. Then check the box next the Blood Glass Weapons on the Oblivion Launcher. Enjoy!
Contact:
If you would like to receive update notices or want to suggest something I love to heard your ideas. Please PM or email me at bluefire.obivion@gmail.com. My website is located at Unit Alpha's Oblivion. If you have any problems, email me with a list of your mods and a description, I will try to help.

Thanks for downloading and taking a look at my mod!

Please rate and comment on the mod!

© Unit Alpha
Envision the Future
Unit Alpha's Oblivion