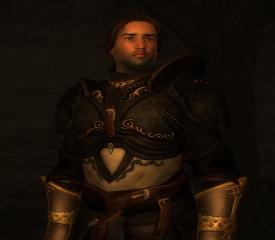 Views: 2,200
1.0
Javier Cazot
Blades Ceremonial Armour - Javier 'Axeface' Cazot

"For my Loyal Blades, Guardsmen, Friends, I give unto you this Armour, may it serve as a constant reminder of my gratitude to you, and a sign of my bloodlines bond to you one and all, for all of time." - Uriel Septim

This Oblivion mod adds a new set of Heavy armour to the Cloud Ruler Temple armoury, the Blades Ceremonial Armour. This glorious suit of armour was commissioned by Uriel Septim himself as a reward and thankyou to his blades.

The armour is a retexture of:-
Steel Cuirass
Steel Gauntlets
Legion Dragon Greaves
Iron Boots
Blades Helmet

Please read the .txt file (javbs_readme.txt) before installing.
Remember if you want to change or use this mod or anything herein, ask me first please.

Cheers, Enjoy!