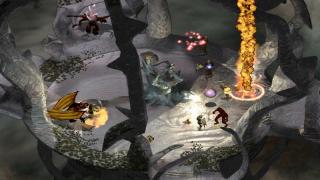 Views: 6,860
1.0
Gibberlings 3
The BG2 Tweak Pack has many components, which can be installed completely independently of one another. For convenience, they are grouped into five broad categories. At installation time, players can select or ignore entire categories to streamline the installation process.
Cosmetic Changes

This batch of tweaks generally changes the look and feel of the game, without making general rule changes or altering the underlying mechanics of the engine.



Remove Helmet Animations
Many don't like how any of the helmets look on the character avatars. Now they can't be seen at all - just like ioun stones. This component will affect all helmets in the game, including helmets introduced by mods.



Imoen Avatar Change
Non-Tutu
This component will change Imoen's avatar from a thief to a mage.



Nalia Avatar Change
Non-Tutu
This component will change Nalia's avatar from a mage to a thief.



Viconia Skin Color Change
A fan request, this component will change Viconia's in-game avatar to have dark blue skin to match her default portrait.



Avatar Morphing Script
This script allows you to select whatever PC avatar you wish for your character or any joinable NPC. Assign this script to the character whose avatar you wish to change. To change the avatar return to the game screen, ensure the party AI in on (and the game is not paused) and press 'S'. This will take you to the avatar selection screen. Once the morph is complete re-assign a combat script to the character. Please note that this component can cause slowdowns on older systems.



Weapon Animation Tweaks
By default, spears in BG2 use 33% overhead swings, 33% backhand swings and only 34% thrusting attacks. Wouldn't it make more sense to use the pointy end?

This component adjusts the attack animation balances of various weapons classes: spears, staves, short swords, and one-handed blunt instruments such as clubs and maces. Spears and short swords now primarily use thrusting attacks and staves are more consistent as a class and use more swinging attacks. A handful of clubs and maces were using thrust attacks; they now only use swinging attacks like all other one-handed blunt weapons. This component also changes morningstars to use a mace animation when attacking, instead of the flail-like ball-and-chain animation. Morningstars are depicted in inventory icons and description pictures as being closer to spiked maces. This component will affect all items in the game, including items introduced by mods.



Icewind Dale Casting Graphics (Andyr)
When your character casts a spell, you get a pretty sequence of colors swirling around their hand depending on the school the spell cast came from. A necromantic spell, for example, looks quite different from creating an illusion. The Baldur's Gate and Icewind Dale games use different sets of animations for the schools. This component changes the spellcasting animations to those of Icewind Dale. Note that this is purely a cosmetic change--the spells themselves function exactly as before. Screenshots for comparison are available in the Tweaks gallery.



Restore SoA Load Screen Logo
Non-Tutu, Requires Throne of Bhaal
This component will restore the SoA logo to the load screens with Throne of Bhaal installed. On the left is the load screen with Throne of Bhaal installed; on the right is the restored Shadows of Amn screen with this component. This component will not work if you have biffed your override folder, a common practice for many large mods. Screenshots for comparison are available in the Tweaks gallery.



Disable Portrait Icons Added by Equipped Items
This component will prevent items from displaying the small icons (fire resistance, protection from charm) that appear on the character portrait while equipped. This will not affect the actual effects of the items, only the display of the icon. It will also not affect icons added by spells or other means.



Commoners Use Drab Colors
Unlike Icewind Dale, commoners in BG2 wear brightly colored clothes. This tweak changes the random selections of colors for commoners to a drab palette. The dress of noblemen and noblewomen are not affected.



Icon Improvements
This component uses a combination of BG, IWD, and BG2 icons to better differentiate armor when it is on the ground. It also restores the inventory icon to the Case(s) of Plenty. Screenshots for comparison are available in the Tweaks gallery.



Change Avatar When Wearing Robes or Armor (Galactygon)
This component will change characters' avatars to a mage if they equip a robe or a fighter/thief/cleric if they equip armor. This allows a thief/mage, for example, to equip a robe and look like as if he is actually wearing one, and then equip a piece of leather armor, and look like a thief. This component will affect all items in the game, including those added by mods.



Force All Dialogue to Pause
This component will change all dialogue to pausing. No longer will bandits attack in the middle of a conversation. This component will affect all dialogues in the game, including ones introduced by mods.



Content Changes
These components make alterations to content in order to provide a better player experience.



More Interjections
Previously known as Valen/Solaufein-Style Interjections
One of the more common triggers for dialogue interjections does not quite work as well as intended--Irenicus not realizing Yoshimo is in your party at Spellhold is a common example. This component will interactively replace these faulty triggers with a simple in-party check, similar to the Valen or Solaufein mods. The net result is that some characters may be chiming in on conversations from half-a-map away, but it also means no more silliness such as Irenicus missing Yoshimo when he's standing four feet away. If party members are in another area, this component could cause some dialogues to exit early. This component will affect all dialogues and scripts in the game, including ones introduced by mods that use the IsValidForPartyDialogue trigger, provided this component is installed after them.



Alter HP Triggers for NPC Wounded Dialogues
Non-Tutu
Many NPCs have banters for when they are wounded. However, the triggers are typically for HP levels so low that many players never see them. This component will raise the HP trigger level so that the player has a better chance of seeing these dialogues.



Reveal Wilderness Areas Before Chapter Six
Non-Tutu
This component will allow you to travel to the three wilderness areas from the City Gates area at any point in the game. Previously, the Small Teeth Pass, North Forest, and Forest of Tethyr areas were not available until chapter six. Please note that while not incompatible per se, this may cause conflicts with mods that set encounters in these areas that assume you've completed the story through chapter six.



Make Cloakwood Areas Available Before Completing the Bandit Camp
Tutu, BGT Only
This component will allow you to travel to the Cloakwood forest from a nearby area prior to completing the Bandit Camp. This will allow you to explore, complete Cloakwood quests, and pick up Cloakwood NPCs earlier in the game. The component has two options: open up the first area only (with the lodge and Aldeth Sashenstar) or open up all four wilderness areas, leaving just the mines themselves inaccessible until after the Bandit Camp.

This functionality is also available from the BG1 NPC Project.



Improved Athkatlan City Guard (Andyr)
Non-Tutu
The Amnish guards aren't really tough enough to keep the peace in the cities, what with all the thieves and vampires around. This component makes the various Amnish guards and the like slightly tougher, and gives them a chance of summoning backup in the form of either another guard, a Sanctioned Wizard or a Militia Cleric.

Please note that the guards aren't amazing killing machines, and this isn't aiming to make the game a hardcore battle experience. You won't get much XP or loot for randomly going around killing soldiers, either. But it might make such activities a little more interesting.



Gradual Drow Item Disintegration
Non-Tutu
Rather than your drow items turning to dust immediately upon exiting the Underdark, they will gradually degrade over time. They also have a chance to break every time they are used in combat. Please note that this component adds a number of item checks to the main game script; as such it can cause slowdowns when you have a very large number of items in your inventory and bags of holding.



Breakable Nonmagical Armor, Helms, and Shields
Tutu Only
The iron crisis in the Sword Coast means that nonmagical iron weapons can break when used in combat. This component will extend the same vulnerability to nonmagical iron armor, helmets, and shields to close an oversight by the game.

This tweak is not available for Baldur's Gate Trilogy as it contains this functionality by default.



Improved Multi-Player Kick-out Dialogues (Weimer)
This allows you to ask multi-player created NPCs to "wait here" or, if accessible, to go to the Copper Coronet (in SoA) or Pocket Plane (in ToB). For Tutu or the Baldur's Gate portion of BGT, the option to go to the Friendly Arm Inn is available. Without this they just disappear forever if you kick them out.



Add Bags of Holding
In the Shadows of Amn portion of the game, this component adds potion cases to the stores of Roger the Fence and Mrs. Cragmoon and ammo belts to the stores of the Trademeet blacksmith and Perter.

Bags will also be added to the Baldur's Gate portion of Tutu and BGT games. This component will add a gem bag to the Friendly Arm Inn store, a scroll case at the High Hedge, an ammo belt to Thunderhammer Smithy, a potion case to the Nashkel General Store, and a bag of holding at the Sorcerous Sundries in Baldur's Gate.



Exotic Items Pack
Tutu, BGT Only
This component adds a handful of weapons and items available in Baldur's Gate II and scatters them throughout stores, creatures, and containers in the Baldur's Gate portion of the game. Items include katanas, wakizashis, scimitars, ninja-tos, bags/quivers of plenty, ioun stones, and a handful of spell scrolls. However, please note that the items have been placed with an eye towards balance and likelihood that they would be on the Sword Coast at all. The exceptions are scimitars, which are definitely less exotic than the other items and hence more plentiful.

This component also fixes a known bug in the game, in that the merchant at Gullykin and the Helm temple in Nashkel shared the same store file.



Reveal City Maps
Tutu Only
In Baldur's Gate II, city maps were revealed as soon as you entered the area. This component will reveal the maps of Baldur's Gate, Nashkel, Beregost, Candlekeep, and (if Tales of the Sword Coast is installed) Ulgoth's Beard. This tweak is not available for Baldur's Gate Trilogy as it contains this functionality by default.



Add Map Notes
Tutu Only
This component will add map notes to many Baldur's Gate areas throughout the game, including some wilderness areas. This process is done interactively, so no areas are overwritten. This tweak is not available for Baldur's Gate Trilogy as it contains this functionality by default.



Stores Sell Larger Stacks of Items
This component will alter all stores in the game to use higher stacks of arrows, bolts, bullets, darts, throwing axes and throwing daggers. This component will affect all stores in the game, including ones introduced by mods.



Reputation Resets at Beginning of BG2
BGT Only
When making the transition from the end of Baldur's Gate to the beginning of Baldur's Gate II, this component will reset the party's reputation back to its default value (from 8-12, depending on the protagonist's alignment). It doesn't make sense that the party could emerge from the opening dungeon, head over to the Adventurer's Mart, and get hero discounts (or villain markups) from Ribald. Despite the events of Baldur's Gate, the protagonist and the party are more or less unknown in Amn.



Gems and Potions Require Identification
This component assigns a lore value to gems and potions, meaning that they now require identification. Lore value is calculated by an algorithm based on the value of the item, but smaller gems and lesser potions should still be fairly easy to identify by the party.



Shapeshifter Rebalancing
Please note that this is a legacy component from Wes Weimer's Ease of Use mod. Wes typically designed for balance under the assumption that people would have the Tactics mod installed, so this is probably overpowered for most normal games. The rest of the description is from Wes:

Shapeshifter abilities now create "symbolic paws". When you wield one you turn into a Werewolf, when you remove it you're human again. There are no possible exploits and you may choose whether to put the paw in your on-hand or off-hand. Since your off-hand THAC0 as a pure druid is, shall we say, sub-optimal, I recommend the on-hand. This fixes the bug where the Shapeshifter's paws could be dispelled and then any weapon could be put in their place. That exploit essentially gave you two extra attacks with whatever you wanted, plus all the werewolf powers.

This also fixes a bug where attributes of the CRE file for "PC polymorphed into a Werewolf" were not actually given to the PC by the Polymorph opcode. For a normal werewolf: