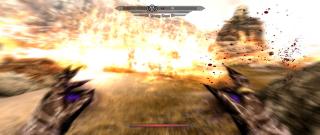 Views: 3,477
3.0
Freyqq
This mod is focused on adding balanced spells to the world of Skyrim. Specifically, these new spells focus on filling a niche that the current spells do not address, while keeping everything balanced. So far, I have added fifteen new spells. All can be purchased from their respective College of Winterhold vendor (Faralda and Phinis Gestor) once you reach the necessary skill level. Two of the spells can be found in the Archmage's Quarters on a table. I have also created a lore-friendly backstory behind the new spells as explained in a letter on top of those spellbooks.



New Spells:
DESTRUCTION
1. Added an Improved Flames/Frostbite/Sparks spell similar to the Novice-level Flames/Frostbite/Sparks that does Adept-level damage/magika requirements. This creates a middle-tier short/midrange option for destruction spells, rather than only having projectile spells in the higher destruction tiers.

2. Added Expert-level Deadly Fireball/Ice Storm/Chain Lightning. These take a longer time than normal to charge up (1 extra second), but do more damage. The animation changes when it is ready to cast. This adds more diverse AOE damage options.

3. Added Master-level Intense Flame/Lightning/Frost Cloak. These last for 2 minutes rather than 1, and also give a 15 point boost to their respective resistance (30 point boost if you dual-cast).



Conjuration
1. Added a "Conjure Boom Atronach" spell that creates an Unstable Flame Atronach that explodes on impact. This creates an AOE option for conjuration, but it is difficult to pull off due to the short amount of time the summon lasts and its very low health.

2. Added a "Conjure Lesser Dragon Priest" spell that summons a Master-level Lesser Dragon Priest for one minute. It is slightly weaker to a Dremora Lord in a straight-on fight, but it has range and a bunch of different spells. If you summon both a Dremora Lord and a Lesser Dragon Priest at the same time, it is a pretty effective duo.

3. Added a "Conjure Spirit Mage" spell that summons an Adept-level Spirit Mage for one minute. This spell adds diversity to the adept-level tier of spells. Frost Atronachs are basically melee tanks. This adds a ranged conjuration option that is about on par with a Frost Atronach.

4. Added Adept-level Summon Decoy spell. This creates a Decoy that has massive health, but does minimal damage. This creates more options for Conjuration, as now you can summon a tank against powerful enemies.

5. Added Adept-level Summon Bound Mystic Sword/Battle Axe spell. This creates a more powerful version of the summon Bound Sword/Battle Axe spell equivalent to Adept-level damage. I felt it was unbalanced that the bound weapon spells were so weak compared to the bound bow spell, so I made additional adept-level versions with adept-level damage.

I may add more balanced spells over time. If you have any suggestions for new, balanced spells, please post them in the comments! This mod should be compatible with all other mods. Special thanks to "s33k3r" for helping with the balance-testing.