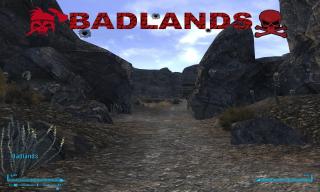 Views: 2,717
1.0
achillesdave
The Geshute tribe have grown rich through the slave trade. They are taking full advantage of the undefended NCR southern border region to raid farther north than ever before. Its time to take the fight to them. Their stronghold is located in the Badlands, on the old Geshute Indian reservation.

Badlands is a new worldspace with several new areas to explore. It was designed to challange a high level character so you had better come prepared. The mod begins with a message to investigate the ambush of a caravan north of Goodsprings. Talk with the survivor and this will lead you to the Badlands entrance. I had loads of fun play testing this.

----------known issues-------

The mod has local maps but no world map.



-----------Requirements---------


This mod does not require any DLC. All you need is Fallout NV with the latest patch

-----------Installation---------

Extract the Data folder to your Fallout NV folder.
Activate the .esm

Download new update esm cleaned in FNV edit and overwrite Badlands esm
----------Changelog---------------
ESM update 2:

Changes unique Legion character to different faction to prevent reputation loss
Adds campfire at the eagles nest trail for cooking
Fixs issue with free slaves gathering around the lake at the Badlands entrance
Deathclaw at Badlands entrance has been removed
The Chief now has his own cell and some dialogue
The High Priest has been moved and has some dialogue
Tribal armor is now around 60-70% condition


-----------Credits----------

The Lord Inquisitor for the gold models.