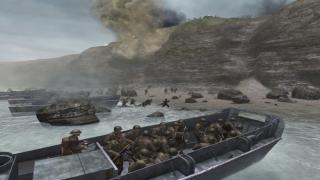 Views: 1,401
2.0
GCF Team
This is a intuitive multi-player mod by the German #GCF#Team. Packed with tons of features -- many we've never seen utilized in CoD2 -- and it still retains its customization options, there's lots of things you can do to really make your server stand out.
Back2UO Mod Reloaded
GCF German City Fighter
Created & Modified by
* GCF Wulf
* GCF R@zor
* GCF Lejack

http://www.gcf-team.de
Mod Contents
COD 2:
- Cod 2 Elements adjustable
- COD 2 Hud Elements revised
- COD 2 Map Ambiente FX adjustable
- COD 2 Map Vote revised
MOD:
- Back2uo Mod Config inserted
- Dimension calculation inserted
- Health held back inserted
- Weapon Panzerschreck inserted
- Weapon G43Sniper inserted
- Medipacks inserted
- Server Informations inserted

HUD Elements:
- New Compass inserted
- Player Stance revised
- Healthbar inserted
- Ranking System inserted
- Player Score revised
- Team Score revised
- Hud Ambiente Fx Icons inserted

Messages:
- Clan Messages inserted
- Win Messages inserted
- Wellcome Messages inserted
- Server Info inserted
- Status Messages inserted
- Next Map Messages inserted

Effects:
- Blood Effects inserted
- Flak Effects inserted
- Thunder & Lightning Effects inserted
- Mortar Effects inserted
- Weather Rain Effects inserted
- Weather Snow Effects inserted
- Pain & Death Sounds inserted
- Airplanes inserted
- Artillery inserted
- Cold Breath inserted

Systems:
- Random Generator for Weather FX inserted
- Random Generator for War FX inserted
- Map Systems inserted
- Camper Protector inserted
- Spawn Save inserted
- AFK Protector inserted

Mod Info
- "startscript_linux" = Back2Uo Reloaded Linux Server Startscript
- "startscript_windows.bat" = Back2Uo Reloaded Windows Server Startscript
back2uomod
- "back2uomod_deutsch.cfg" = Back2Uo Reloaded Mod Config German
- "back2uomod_english.cfg" = Back2Uo Reloaded Mod Config English
- "z_back2uomod_2.0_00.iwd" = Back2Uo Reloaded Mod Datei COD 2 v.1.0
- "z_back2uomod_2.0_01.iwd" = Back2Uo Reloaded Mod Datei COD 2 v.1.2
- "z_back2uomod_msg.iwd" = Back2Uo Reloaded Mod Datei Server Clan Messages
main
- "server.cfg" = Back2Uo Reloaded Mod Server Config
- "rotation.cfg" = Back2Uo Reloaded Mod Rotation Config
Mod Installation
- the file "back2uomod" into your "Call Of Duty 2" copy.
- link the "back2uomodback2uomod_english.cfg" into your server.cfg.
- exec back2uomod_english.cfg
- or choose the "server.cfg" and "rotation.cfg".
Mod Configuring
- All Mod Functions is adjustable in "back2uomod.cfg".
- Messages are changed in "zzz_back2uomod_msg.iwd".
- Simply with a Zip Software open and the file "b2uomsg.str" work on.
Mod Start
Windows Server:
C:\Programme\Call of Duty\CoD2MP_s.exe +set fs_game back2uomod +set dedicated 2 +exec server.cfg

- For Windows Server start, can use the "startscript_windows" File.
Linux Server:
screen -d -m -S cod2server cod2ordnercod2_lnxded +set fs_game back2uomod +set net_port deinport +set dedicated 2 +exec servercfg.cfg

- For Linux Server start, can use the "startscript_linux" File.

Contact Data
Homepage = [url]http:www.gcf-team.de[url]
E-Mail = back2uomod(at)gcf-team(dot)de