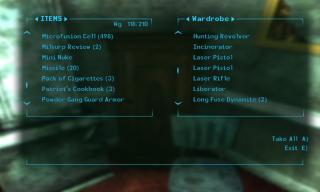 Views: 1,765
1.3
EvlLprchn
I REMOVED THE FILES UNTIL BUGS ARE FIXED! it will take a few minutes, check back later


*REQUIRES NVSE*

This mod enables the very useful Auto-Loot function, created by EvlLprchn. Caps, chems, mags, ammo and more will be automatically transfered to your inventory when looting containers or corpses.
My changes:
* No need to buy an item to get the Auto Loot option. Wait a few seconds for the mod to enable itself
* Press L to enable and disable Auto-Loot (might change the button, need feedback)
* When enabled, auto-looting a locked container will remove one bobby pin (just press L again to manually open the lock. Use old v1.1 if you dont want that feature)
* Optional ESP for Hardcore mode. Ammo will NOT be picked up automatically (use only ONE ESP!)
* removed bogus data from the file that prevented other mods from functioning correctly



I noticed the mod doesnt work on Ash Piles (of enemies that i just killed with a laser rifle). I tried to add them to the list of auto-lootable containers, but it didnt work. Might try that again another time, for now you'll have to loot Ash Piles manually :p

It also looks like looting owned containers is not considered stealing. Will check on this too if i find the time and feel like scripting again :p

A huge thanks to EvlLprchn for creating the original script!