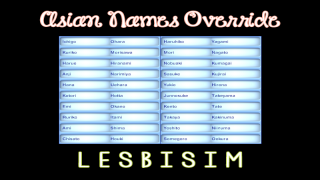 Views: 1,093
1.2
lesbisim
If you are of Japanese/Korean descent, fascinated by Japanese/Korean culture or just in search for something different for your game, this mod - requested by claudiasharon - is for you!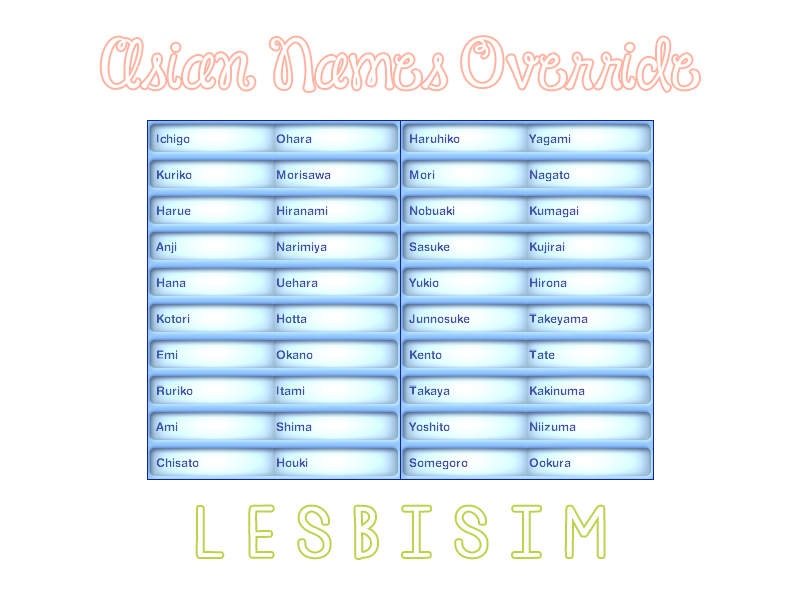 Japanese & Korean
The Japanese & Korean Names Mod is an override, and will replace the default name lists in your game. This means townies, NPCs and sims created through Story Progression will have Japanese or Korean names, like the ones in the examples. I should clarify, the names are predominantly Japanese with a small amount of Korean thrown in for good measure. Credit goes to the incredible Remix for finding and compiling the majority of the names used in this mod!



New Saves
This mod doesn't give existing sims new names (including any existing NPCs or townies, so I'd suggest using it in a new save), and you'll still be able to give any name you want to sims that you create in CAS (though, it does replace the names in the CAS random name generator). This means you can put the mod in your game when you're playing an Japanese or Korean themed town, and take it out when you want to go back to your normal towns.



Details
This is a STBL override mod which replaces the strings in the FullBuild0.package (TGI:220557DA-00000000-000F16B00BA8342F), and is built to work with all languages. It should work with all versions/expansions, and is compatible with all core mods (though it conflicts with any other name-changing mod including my Berry Sweet Names mod and my Mythological Names mod). Simply place in your ModsPackages folder like you would with any mod and enjoy!

27/04/2013 - Edited the title & description for all those who were offended.