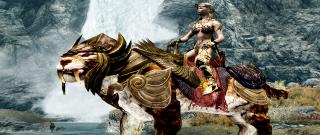 Views: 12,139
1.01
tumbajamba
GUYS PLZ IF YOU LIKE THIS ONE DONT FORGET TO ENDORSE=))

With this mod you will finally get an amazing SabreCat mount, with badass armor.




Location
The location has been changed. You will find a new chest in whiterun stables, under the Stable shield.

In the chest you will find flute, as soon as you used it, you will recieve a new "summon mount" spell.

Use this spell any time you want to summon or dismiss your pet.



Change log version 1.01
- New mount armored wolf added
- Fixed swimming issue
- Summon Script is improved
- player will no longer get stuck in the air, if mount dissmissed
- If mount attacks player dismiss and summon again will fix the problem




Change log version 1.0
- Sabre cat will not follow player in to the interior and cant be summoned in the interior
- The cat is not that lazy any more, no more annoying sitting or laying animations
- new summon spell
- new flute location
- custom summon sound
- cat is less aggresive to player

Have fun and PLEEEAAASE give me your feedback with your positive comments!



And Finally
This cat uses vanilla elven armor textures so you can use any alternative elven armor textures from nexus.



Known issues and possible solutions
1) I have the permanent purple glow after summoning. and the glow doesn't go even after deactivating the mod.

This issue is actually fixed in the version 1.01 and higher.
To fix this issue try to do following:

- Remove compeletely the mod
- Download the newest version
- Install the newest version

2) The chest doesnt appear in whiterrun stabbles:

- Dactivate the mod
- Make an clean save outside of whiterun
- activate the mod
- Start game again and go tho whiterun stabbles.

3) OMG my pet is attacking me!!!!

To solve this one you need newest version of the mod 1.01 and higher

- Just dismiss you pet and summon it again and he loves you again.

4) When i go in to the water while mounted, the player starts swimming on the top of the mount.

This is complicated im working on the solution, hope to solve it some day.

5) I am unable to cast this spell. It simply won't work. Equipping it in either hand simply results in an unequipped hand.

Use shout button.=)



Credits
Special Thanks to Tytanis Team for creating great skeleton for sabre cat!
Thanks to DarkenDe for helping me with scripting and giving me permissions to use his Horse flute mod.

Thx to fLokii for giving me permission to use his wolf skeleton.