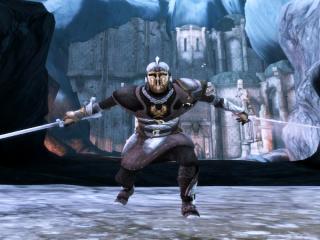 Views: 14,797
1.0
Kutkh
ARMOR OF THE ELVEN WARDEN v0.1
by Kutkh

Updates
v0.1: FIRST PROOF OF CONCEPT RELEASE

Installation
Using DAUpdater:

1. Extract EWArmor0.1.dazip to a directory of your choice.
2. Navigate to your Dragon Agebin_ship directory, and open daupdater.exe
3. Click Select DAZips
4. Navigate to where you unzipped EWArmor0.1.dazip and select it.
5. Click Install Selected.

Success!
Introduction
During my first playthrough of Dragon Age I regretted the lack of appropriate armor for an elven Grey Warden. I didn't want to encumber my melee rogue in heavy plate, but found leather armor lacking in character. As the endgame approached I was desperate to find something to wear that would show how far my warden had come from his city-elf origins, but the best I could do was to kit him out in full Ancient Elven Armor - all well and good, were it not for the inkling that I'd gone to the wrong Joining and accidently become a member of the Green Wardens.

It seemed like the game was lacking in options at the lighter end of the armor scale and that seemed like as good a basis as any for a mod.

This is a very early release, the first step in a project I intend to build on. But I want to get something out there for people to play with and to hopefully gather suggestions and feedback for the next release. Thanks for looking!
Description
This mod adds a full suit (armor, gloves, boots and helm) of medium armor to the player's inventory. The armor has been designed with the following principles in mind:

- A lore-appropriate fusion of elven and Grey Warden designs, including the Grey Warden insignia.
- A 'lighter' look than many medium/heavy armors, emphasising leather and chainmail rather than metal plate.
- A helmet that doesn't look silly on an elf. (I've already got pointy ears, I don't need head-wings!)
- Decent, but but balanced bonuses for a melee rogue or warrior.

The current version does all of the above and is suitable for all race and gender combinations, not just elves. In creating this texture I have blended some original work with material from the Ancient Elven and Warden Commander sets.
Known Issues
- At the moment the armor uses existing normal maps rather than custom ones. As a result the bump mapping is far from perfect. Due to a hardware failure the PC I'm working on is using an older graphics card which means I can't test the normal maps in-game, so I've left them out for now. If anyone wants to volunteer to help me out by sending screenshots from a high end system, let me know.

Upcoming Changes

Soon:
- Normal maps!
- A second pass on the texture, particularly the chainmail, developing the original designs and scaling back on the amount of stuff I've 'borrowed' from existing textures.

Later on:
- A corresponding suit of light armor for archer characters.
- Placing the set(s) at a lore/gameplay-appropriate point in the campaign, for people who prefer to earn their items.

Even later:
- Developing a short questline with the final version of the set as a reward.
Thanks
Thanks to Krayzie_3334, Divine_Divinity and Adinos for their tutorials.
Tools Used
Dragon Age Toolset
Adobe Photoshop CS3 w/ Nvidia DDS Plugin
DATool (http://social.bioware.com/project/41/)