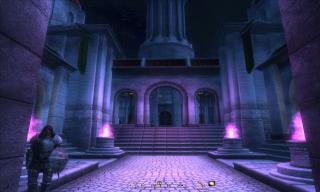 Views: 3,500
1.4
ByblosHex
*Summary*
When I hear the words "Arcane University" I imagine white marble buildings surrounding a huge tower, I imagine an area full of magic and mystery, where even the candles are extraordinary. Enter Arcane University 300, a full Arcane University overhaul.

*New Arcane University Exterior*
-Completely redisigned Exterior.
--New Enchanter Store, in the main Plaza.

*Bigger Arcane Council Tower*
I don't know about you, but I was dissapointed to learn that the Arch-Mages' tower was on the inside, one of the smallest towers in the game. There is no room to move let alone study anything. The council Chamber was just a small room with a table and barstools. Well, say goodbye to the old and hello to the new. The tower's interior is more like that of the Imperial Palace, it is still 3 stories high and includes.
With that in mind the former "Arch-Mages'" tower has become the Arcane Council's Tower. Traven is still there, for now.
-The Arcane Council's Lobby
-The Arcane Council Chamber
-The Arcane Councilor's Private Quarters
--There is also a small garden from the observation post on top of the Imperial Orerry, which can be reached by use of a teleport pad within the The Arcane Councilor's Private Quarters.

*In the future*
Our plans for the future include but are not limited to:
-Building a new Arch-Mages' tower for the new Arch-Mage!
-Expanding to include the rest of the Arcane University's buildings.
-Giving the Arcane Councilor a companion of his own, just because he is one of the most powerful Mages in the Empire doesnt mean he has to be lonely!
-A new and special mount for the Arcane Councilor.
-A real laboratory and spell testing chambers.
-A new set of shops just for Mages.

*Compatabilities*
Works with anything that doesnt change the Arcane University specifically.
This DOES work with Midas' Magic.
This does NOT work with the official Orrery Plug-In, and it Never will - Something else will be put in its place.
This DOES work with OOO and anything else not mentioned.