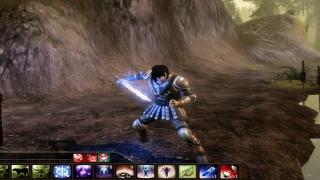 Views: 9,222
0.6b
Kesaru
This mod drastically overhauls all Mage spells and specializations.
The first purpose is to bring these spells and specializations in line with each other, as well as balancing the class as a whole.
The second purpose is to make the Mage more fun to play, improving the use of aspects such as cooldowns, cast times and forced weapon sheathing.

The final purpose is to improve the aesthetics, changing spell VFXs and icons to match the themes of the spells, adding more variety and logic to casting animations, and generally improving the appearance of spells.
--Details--
Many spells have had their costs, cooldowns, casting times, ranges and even effects adjusted.
Cooldowns and ranges have generally been reduced, sometimes drastically, and costs and casting times have been altered to balance them.

Many spells have been given casting times. Previously only a few top-tier spells had these.
As a rule of thumb, buff/debuff/crowd-control and healing spells have been given reduced range, and spells which affect an area have been given cast times (except cones).
Casting times are avoided when possible on short-range spells, but long-range ones usually have them.

Spells intended for emergency use, such as certain heals or AoE crowd-control, are usually granted either a high cooldown and/or a very short range instead of a cast time.

The only spells which force weapon sheathing are now those with a cast time.
Forced weapon sheathing is still used on spells with cast times to improve the casting appearance, mostly preventing clipping. This does not slow the spells down further, since the sheathing animation occurs during the conjure phase without delaying it.

Most maintained spells have had their cooldowns drastically reduced, making it easier to toggle them on and off as needed rather than keeping them up all the time.

Additionally, maintained spells require you to have the amount of mana required for upkeep remaining to activate.

Arcane Warriors now use a single blade without a shield, and have a new line of 4 attacks which utilize this.
Salient Rebuke - Tier 1:
Kick the target, launching them backward.
Soulbreaker - Tier 2:
Strike once with your sword, followed by two punches. The second punch deals spirit damage and stuns the target.
Ephemeral Cestus - Tier 3:
Punch the target 3 times. The final hit is an automatic critical with extra spirit damage, and knocks the target down.
Lambent Blade - Tier 4:
Strike the target four times with greatly reduced damage, but very high armor penetration. The spirit damage added by Mana Sheathe is greatly improved on these hits.

Many spells have had their VFXs and Icons altered.
This was done in some cases to have different spells within the same set match each other, to match the casting effects with the collision and projectile effects, and to match the effects with the theme of the set.

Redundant spells have been changed into passive improvements upon their earlier counterparts.

This includes:
Affliction Hex: now adds -15 armor to targets affected by Vulnerability Hex.
Virulent walking Bomb: Now changes Walking Bomb to Virulent Walking Bomb's functionality.
Heroic Buffs: Heroic Aura is now the base ability in the line, and Heroic Offense/Defense each add their effects to Heroic Aura. Heroic Aura and Defense have also had their effects altered.
Anti-Magic Ward: now applied automatically to a target after casting Dispell Magic on them.

Certain spells have had their functionality overhauled.
Disorient: now causes Confusion on a single target.
Mana Cleanse: now drains stamina or mana from any targets affected, but drains twice as much mana as stamina.
Mana Clash: now deals spirit damage to anyone affected. Mana-users will lose mana in addition to health, equal to twice the damage.
Spell Might: now increases Spellpower by 50%, but increases spell-costs (fatigue) by 20%. No longer drains mana.
Wisp: Now grants greater spellpower than before, but drains mana while you maintain it.
Force Field/Crushing Prison: Now last a static 5 seconds regardless of rank, but has a cooldown of only 20 seconds.
Glyphs: now cast directly at your feet, but have a cooldown that matches their duration.
Glyph of Paralyzation has had the cooldown reduced to 10 seconds, allowing multiple glyphs to be laid at once.
Glyph of Neutralization no longer negates all mana immediately upon entering, applying a heavy mana drain instead (this was necessary since you start inside it).
Combat Magic: no longer has an upkeep cost or fatigue (as an aside, neither does Blood Magic).
Aura of Might: now called Mana Sheathe, and the old effects are completely removed. Now applies blue flames to your equipped weapon, causing it to deal spirit damage on each hit and increase attack speed by 15%.
Shimmering Shield: now called Ethereal Armor, and applies Combat Magic's old 50% fatigue.
Fade Shroud: Now applies to Shimmering Shield instead of Combat Magic.
Shapeshifting: all forms now cast immediately, and have a cooldown of only 5 seconds. Additionally, Bear Form has been completely replaced with Wolf Form, and the initial appearance of Spider Form has been replaced with a different type of spider.
Heroic Aura: now adds defense.
Heroic Defense: now adds a chance to deflect arrows as well as it's old spell resistance.
--Compatibility--
This mod is not compatible with any mods which alter the base mage spells through ABI_base.GDA, or the base mage shapeshift forms through Shapechange.GDA.
Conflicts with other mods which alter the Arcane Warrior or Spirit Healer specializations through CLA_base.GDA are also possible, though minor; if this mod's CLA_base is overwritten it will merely revert the class icons for those two.
--Updates--
0.6b: Repaired two minor issues; Arcane Bolt not displaying it's projectile effect, and Affliction Hex not properly adding an armor penalty to Vulnerability Hex.
0.6a: Repaired an issue in which Blood Control was set as a "maintained" ability, making it unusable.
0.6: greatly improved compatibility with other mods by removing changes to base scripts.
0.5a: Removed remnant changes inside ABI_base_arcanearts which added a cast time and sheathing to potions, and removed an unnecessary file which held minor potential for conflicts in other mods.
--Known Issues--
Cleansing Aura refuses to display it's visual effects.
--Alteration--
Do not redistribute any part of this mod without my permission.

If there are certain spells you do not want affected by this mod, download GDApp found here: http://social.bioware.com/project/755/
Open My Documents > Bioware > Dragon Age > Packages > Core > Override > Arcane_Arts > ABI_base_arcanearts.gda.
Make a copy of this file first in case you make a mistake and break something.
Open it up, and inside delete the row associated with any spell you do not want this mod to alter. This will revert it to it's natural state in-game.
Important: do not delete passive spells or those associated with them unless you delete both.
--Credit--
Thanks to Icthulu for the white wolf textures used by the first wolf form.