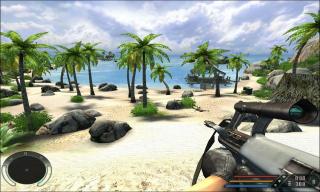 Views: 7,521
1.0
Angus
Angus Weapon Mod


I released this mod in anticipation of Far cry 2. Hopefully people will enjoy it.


Adds the following weapons
AK47 (replaces M4) (uses assault ammo)
Dual MP7s (uses smg ammo)

M4 Sopmod Silenced (uses assault ammo)

P99 .40SW (uses pistol ammo)

P99 Scoped/Silenced (uses pistol ammo)

Steyr AUG (uses assault ammo)

Glock 17 (uses pistol ammo)

M3 Shotgun (uses shotgun ammo)
To get the weapons
a.) place devmode in far cry folder. (backup your original)
b.) add -devmode to your farcry shortcut
c.) type the letter p while playing.

2.) New weapon sounds for all weapons except Rocket Launcher.
3.) Gory bullet wounds
4.) Glider stays in the air longer
5.) Various weapon tweaks (weapons are generally more accurate)

This mod is meant to be played on veteran or higher since your weapons are more
accurate.


Credits
Dual MP7s, P99, P99 scoped, Glock 17, and M3 -- Matto
M4 Sopmod -- Obsidian Edge mod team
AK47 -- Freestyle-Productions
Gory bullet holes -- "Dickie"

Weapon sounds, compilation -- me

Installation: I have not made this as a typical mod. Simply place the file
"Textures19.pak" into your FCData folder. Make sure to remove this file if
you're going to play online as it may be considered a cheat.