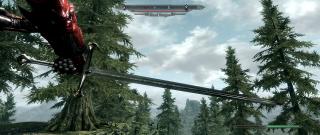 Views: 11,007
1.0
DigitalLion
EDit: New File has better Stats.

Also i had to resize the sword so that the scabbard doesnt go through the ground, IF you are unhappy with its size, Simply drop it on the ground and open the console, then click the sword and type in setscale 1.1 or 1.3 to change its size, 1 is the default.

Anduril from LOTR.
I have made this model and the textures myself.
SORT OF A WIP : I DO NOT HAVE TIME FOR HATERS KEEP IT IN YOUR MOUTH AND OFF OF YOUR KEYBOARD.

Install :
Place the Files in the RAR into your Data directory which can be found in.. program files/steam/steamapps/common/skyrim
/Data

When you start the skyrim launcher make sure you check your data files to see if the esp is selected,

To get the weapon type the code in the console to get it, To open the console press either " ` " or "~" tilde key, Then type help anduril 4 , and it will show you a list, next to WEAP it will have a number, type player.additem (number) 1 and it will appear in your inventory.