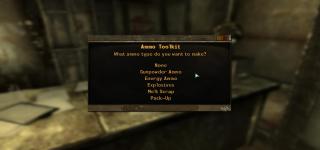 Views: 2,489
3.4
Stewb14
Workbenches to create ammo, one set in Craterside Supply, the other in Tenpenny Tower.
Schematics can be bought from Moira Brown or Lydia Montenegro. A third set is hidden somewhere, if you want a clue then
"Elect to find T51"
Ammo Toolkits are available too from Moira Brown and Lydia Montenegro, these cost 3000 caps, base price, for the pair. Once dropped from your inventory they can be
used to do anything the workbenchs can and also have the option to pack-up back into your inventory.
CRAFT Access - Ammo and CRAFT Access - Explosives must be bought to gain access to Relevant menus on CRAFT. This stops Create Ammo and Create Explosives appearing on
CRAFT Menu until you have schematics for the ammo, provided you bought the access after the schematics. These two access items only cost 1 Cap so i have no problem
working it this way. The only other way was to amend every single script for the bought/found schematic items and i'm too lazy to go through all them.
New perks as a plugin increase ammo yield, gain them by making enough ammo.
You can also strip down car engines for fission batteries with the new perk, read "Auto Repair" (Dean's Electronics base item) in Rivet City Science Lab.


Install
=======
1. Extract the selected file, see below, and readme to C:(Install Directory)Data
2. Start Fallout 3, select Data Files, Check "Ammo Bench.esm" file, plus appropiate plugins.

Ammo Bench.esm: Just the schematics and Portable Toolkits
Ammo Bench - old Work-Benches.esp: Same as above but with static workbenchs
Ammo Bench - CRAFT Plugin.esp: (Craft.esm needed for this)
Ammo Bench - Artisan: Adds the new perks in-game.
Ammo Bench - Car Mechanic.esp: Strip car engines for fission batteries and scrap metal after reading "Auto Repair" magazine in Rivet City Science Lab.

Credits
=======
Offkorn for allowing me to borrow elements of his script to upgrade the menu :)
Highsight for the CRAFT Mod which this mod is compatible with now.