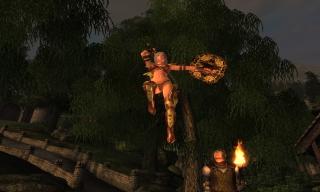 Views: 3,106
1.1
RamyEnfant
Name: Amazing Jump
Version: 1.1
Date: 2007/07/08
Category: Models and Textures
Author: Ramy
Homepage: http://ramyoblivion.hp.infoseek.co.jp
E-mail: ramyoblivion(at)infoseek(dot)jp

Description
===========
Jump motion is modified to acrobatic loop.

Install
=======
1. Place the meshes folder into your \Oblivion\Data folder and overwrite.

History
=======
Ver1.1
-Add 3 new motion
-Fix motion
-Fix that a tail transformed
-Strange sound did not occur

Ver1.0
-Fix motion

Ver0.1
-Initial release

Licensing/Legal
===============
Please improve.