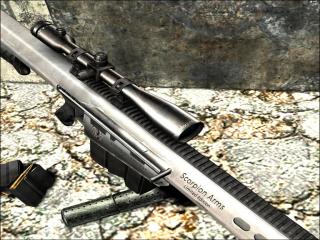 Views: 4,512
1.2
AlexScorpion
You HAVE TO install this program: http://modsreloaded.com/fallout-mod-manager
and press toggle archiveinvalidation it's a MUST and you have to also do this:

GO TO MY DOCUMENTSMY GAMESFALLOUT 3 AND OPEN FALLOUT.INI
(press ctrl+F type)find the line bInvalidateOlderFiles=0 AND CHANGE IT TO bInvalidateOlderFiles=1 SAVE AND

The PP-2000 Smg has been added.. the complete gear is at the Germantown Police station . The vendors haven't changed ..just the amount of ammo they sell .I'll edit the readme properly tomorrow .


Name: Alexscorpions Sniper Gear
Version: 1.2
Date: 2/24/2009
Category: Weapons
Author(s): AlexScorpion
Source: http://modsreloaded.com/alexscorpions-sniper-gear

Description
===========
This is the first part of my sniper gear mod. Adding 4 m82a sniper rifles.

Location
========
I have divided it in two parts .. 1st is located in Germantown Police HQ in the basement at the shooting range .. now the main entrance is locked with 100 lockpick skill .. but if you go around you'll see another entrance on the 2nd floor in the collapsed section of the building .

2nd part .. MDPL 13 Power station ..check the screens form more info .
Details
=======
Here are 4 sniper rifles that come in two colors and two variants .. silenced and unsilenced ... light and dark .
I've also included an esp with 50% less damage , i've made my mod compatible with CALIBR and added ammo to the vendors .. you can buy it from Moirra in Megaton , Flock and Shrapnel in Riviet city and From Tulip in Underworld.

Enjoy .
Install
=======
1. Extract the files to a temporary location.
2. Examine the folder structure and make corrections where necessary.
3. Copy files to (install folder)FalloutData
4. Start Fallout Launcher, click 'Data Files', place a checkmark beside the .esp file(s).
Uninstall
=========
1. Start Fallout Launcher, click Data Files, uncheck the .esp file(s).
2. Delete the files/folders associated with the mod.

meshesweaponsscorpion armory
texturesweaponsscorpion armory
soundfxwpnm82
Upgrade
=======
none
Incompatibility
===============
none
Known Issues or Bugs
====================
none
History
=======
1.1 Added two more rifles made it compatible with Calibr ..added ammo to vendors .. removed my logo from the rifles
1.2 PP-2000 SMG added

Contact
=======
You can find me on the official Elder Scrolls forums as alexscorpion
You can find me on TESNexus as alexscorpion

Credits
=======

A big thanks to Niftools team for the max plugins and the nifskope (Tazpn,Amorilia and Sacarrow )
Thanks to Tubal for his Community Ammunition Library - CALIBR mod
The people at tesnexus for supporting me and giving suggestions .
Thanks to Bethesda for creating Fallout.
Thanks to TESNexus.com for the a one-stop-shop resource for authors and players.
Thanks to LHammonds for the Readme Generator this file was based on.
Thanks to God for creating us all.

Tools Used
==========
7-Zip - http://www.tesnexus.com/downloads/file.php?id=15579
3D Studio Max - http://www.autodesk.com/3dsmax
NIFSkope - http://niftools.sourceforge.net/wiki/NifSkope
Paint.NET - http://www.tesnexus.com/downloads/file.php?id=11909
Photoshop - http://www.adobe.com/products/photoshop/
Readme Generator - http://lhammonds.game-host.org/obmm/tools_readme_generator1.asp
G.E.C.K.- official fallout 3 site

Licensing/Legal
===============
This mod is released under the GNU General Public License.
The GPL can be found here: http://www.gnu.org/licenses/gpl.txt