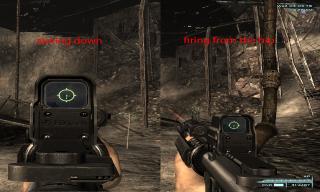 Views: 6,922
1.0
alexscorpion
Name: Alexscorpions FPS weapons animations

Version: 1.0

Date: 7/27/2009

Category: Animation

Requirements: ABILITY AND PATIENCE TO READ !!!



Current Patch





Author(s): alexscorpion



Description

===========

This mod changes the first person animations for all pistols and automatic rifles.



Location

========

it's a replacer.



Details

=======

Here we go ... this is my first attempt to modify fallout's animations. The goal was to create a more realistic aim. There were several problems though ...

first .. i still can't figure out how to export the anims from 3ds max correctly .. therefore all of the anims were created in NIFSKOPE ... so please no remarks about the quality :D .. it's tough as hell to animate in nifskope :).

And second ... because of the fact that many weapons share the same animations and differ in shapes and sizes it's impossible to align every weapon to the crosshairs.



HOW TO DO IT YOURSELF.

I have added my anims support for all vanilla autimatics and pistols...But you might not be able to use these anims with some of your custom pistols and automatic rifles ... here is how you fix it .

Open your pistol/rifle .esp plugin in GECK ... find and open your weapon in GECK ... press the sound & art tab ..uncheck(if checked) don't use the first person IS animations. OK and SAVE



I've already added support for the latest weapon mod kits .. the esp is included in the download.



Install

=======

ATTENTION .



you HAVE TO install this programm: FOMM
and press toggle archiveinvalidation IT"S a MUST and you have to also do this



GO TO MY DOCUMENTSMY GAMESFALLOUT 3 AND OPEN FALLOUT.INI

(press ctrl+F type)find the line bInvalidateOlderFiles=0 AND CHANGE IT TO bInvalidateOlderFiles=1 SAVE



1. Extract the files to a temporary location.

2. Examine the folder structure and make corrections where necessary.

3. Copy files to (install folder)Fallout 3Data

4. Start Fallout 3 Launcher or the FOMM, click 'Data Files', place a checkmark beside the .esp file(s).



Uninstall

=========

1. Start Fallout 3 or FOMM Launcher, click Data Files, uncheck the .esp file(s).





GO TO Fallout 3Datameshescharacters_1stperson FOLDER



AND DELETE THESE FILES:

1hpaimis

1hpattack3is

1hpattack4is

1hpattackleftis

1hpattackloopis

1hpattackrightis

2haaimis

2haattackloopis





Incompatibility

===============

It probably won't look good with big bulky weapons and won't work with other animations replacers mods that use the animations listed above.



Known Issues or Bugs

====================

none



History

=======

none



Contact

=======

You can find me on the official Elder Scrolls forums as alexscorpion

You can find me on TESNexus as alexscorpion





Credits

=======



Examples:

Big thanks to the Niftools team.

Thanks to Bethesda for creating Fallout.

Thanks to TESNexus.com for the a one-stop-shop resource for authors and players.

Thanks to LHammonds for the Readme Generator this file was based on.

Thanks to God for creating us all.



Tools Used

==========

7-Zip - http://www.tesnexus.com/downloads/file.php?id=15579

NIFSkope - http://niftools.sourceforge.net/wiki/NifSkope

Readme Generator - http://lhammonds.game-host.org/obmm/tools_readme_generator1.asp



Licensing/Legal

===============

You can do whatever you want with this mod but all I ask in return is that

you give me credit if you distribute any part of this mod. I would also like

to know what mods are including my work.