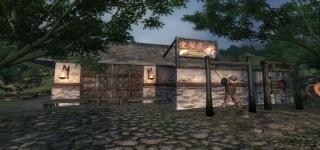 Views: 6,225
0.4
Hifoo
Name: Akaviri Samurai Shop
Version: 0.4
Requirements: Oblivion Script Extender v0014a
Author: Hifoo

Description
===========
Japanese style samurai shop mod.
There are a lot of katanas and Japanese style arms.
And more.

Doushe Kohara : He does basic Samurai equipment sales of arms and the armor, etc.
Shilleka Kohara : She sells the decorative articles such as clothes and masks.
Negi : The paper lantern and the joke goods, etc. sell small articles.
Shiranui : He sells ninja's arms and fixture.

Include "Armor of the Samurai Champion"
http://modsreloaded.com/armor-of-the-samurai-champion

Dojo
===========
The opponent can be called from the summons terminal.
It chooses from three kinds of difficulties and it summons it.

Easy : Lv10
Normal : Lv20
Hard : Lv30

The door of the dojo is locked while the enemy is being summoned.
When the enemy is killed, the lock of the door is released.

When the enemy disappears before the enemy is killed, it summons it again.


Location
===========
Near Weye.


Install
===========
1. Extract the files to a temporary location.
2. Examine the folder structure and make corrections where necessary.
3. Please replace it when you use No Treasure esp.
4. Copy files to (install folder)OblivionData
5. Start Oblivion Launcher, click 'Data Files', place a checkmark beside the .esp file(s).

Please take out and overwrite EPS from the NoOBSE folder if you do not use OBSE.


Licensing/Legal
===============
Feel free to include or edit, just give me credits for my work.

Credits
===========
Thanks to Bethesda for creating Oblivion.
Thanks to TESNexus.com for the a one-stop-shop resource for authors and players.
Thanks to Ghogiel for his excellent samurai armor.
Thanks to LHammonds for the Readme Generator this file was based on.
Thanks to Talos II AKA DarkWind for Great texture.
Thanks to HISSSSA for excellent Yukata and Mask.