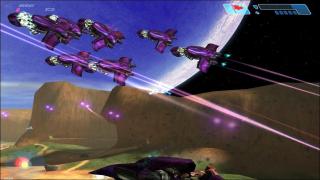 Views: 1,352
1.02
Crazy F
Features include:

-- 8 tough Elites to battle (MC biped model)
-- flying ghosts
-- modded weapons
-- modded vehicles
-- dozens of portals
-- sky platform
-- multiplayer capable

For Halo PC only.

Note: Be sure to consult the "AI-in-BG_READ_ME_FIRST.txt" file included in the .zip in order to set up the map properly and to get the AI to appear.

This is a very "busy" map, so you need a fast machine to get the most out of it. Also, this mwill only work with the standard retail version of Halo PC -- not the Trial version, nor Halo CE. Email me if you have further questions at:

ai_in_bg_feedback (at) yahoo {dot} com
Read me :
---===== AI-in-Blood-Gulch Mod v1.02 READ_ME_FIRST =====---

Changes in v1.02:
1. Addition and adjustment of portals
2. Adjustments to some item placements
3. Adjustments to some player spawn points
4. Minor adjustment to Elite voices

Welcome to rŞzy's AI-in-Blood-Gulch Mod -- the Ultimate Blood Gulch
Experience!

The first thing you need to do upon extracting the map is to find the following directory:

.../Program Files/Microsoft Games/Halo/Maps

Then do one of the following:

a. Create a new folder called "Default Maps" and move your original Blood Gulch map into it

or

b. Add an extension onto the default map to designate it as such (eg.
"bloodgulch.map.DEFAULT")


Next, copy the AI-in-BG bloodgulch.map file into the /Maps folder

Take note of the following before you attempt to play this map:

1. Create a custom gametype for BOTH Slayer and CTF. Go to 'Multiplayer->Edit Gametypes' and for EACH gametype set the following parameters:

a. Under 'Game Options', select the gametype

b. Under 'Player Options' set the following:

1. 'Max Health' to '200%' or greater (recommended)
2. 'Respawn Time' to 'Instant'
3. 'Suicide Penalty' to 'None'

c. Under 'Item Options' set the following:

1. 'Infinite Grenades' to 'Yes'
2. 'Weapon Set' to 'Normal'
3. 'Starting Equip' to 'Custom'

d. Under 'Vehicle Options' set the following:

1. 'Vehicle Respawn Time' to 30 sec. (or greater)
2. 'Vehicle Set' to 'Custom' to enable all vehicles (VERY IMPORTANT! The Elites will only spawn in ghosts!)

(The remainder of 'Indicator' and 'Team Play' Options settings are up to you.)
Modded weapons:
1. The assault rifle is now a fragmentation grenade launcher
2. The sniper rifle is now a rocket rifle and has a higher rate-of-fire (ROF)
3 The rocket launcher is now a tank round gun and has a higher ROF
4. The pistol is now a very high ROF MAC-10
5. The shotgun now shoots exploding pellets and has a higher ROF
6. The flamethrower now shoots a long-range ion beam as well (graffiti writers will like this one...)
7. The plasma rifle is now a plasma grenade launcher and has much longer life
8. The fuel rod gun now shoots 3 projectiles, has a higher ROF, and much longer life

Also, ALL weapons are now zoom-enabled in addition to having been given substantially more ammo.

2. In Slayer, two Elites will spawn on the ground and six in flying ghosts. In CTF, all eight will spawn in flying ghosts. Occasionally, Elite fighters will 'bunch up' and will overturn and begin firing from the ground at you, but if you want to initiate this particularly challenging scenario right from the start, select Slayer as the gametype.

3. The Elites have been given 300% health in addition to their standard shields. This is in order to give them more of a 'sporting chance', since the weapons are all quite a bit more powerful. You can easily eliminate them with the caliber of hand weapons provided, but the real challenge is to take them down one by one in a 8-to-1 dogfight! Watch out for Elites on the ground, though. Once they are in range, they will continue to fire at you using the plasma grenade guns provided. I liken it to what is commonly known in military
circles as 'triple-A' fire (Anti-Aircraft Artillery). Between that and
dogfighting with the Elites in ghosts, you will have your work cut out for you!
(LOL)

4. Hints for survival on the ground: make use of the camo powerups whenever you can! The Elites have been given long range vision and hearing (including 270 degree peripheral vision), so they will usually see you fairly quickly even from a good distance. If you find yourself on the ground without active camo, you will soon be history...

5. The sky platform is 'semi-permeable', meaning you can see AND fire at targets between the gaps in the floor (but it also means they can see YOU, too...)

6. You may find that the sound will 'drop out' briefly from your weapons while firing from inside the base while being surrounded by Elites in ghosts. This map is particularly demanding on your system resources, so it is advisable to use a sound card, if you don't already have one (as opposed to on-board sound chips).

7. The hogs have been modded so you can drive and shoot or shoot and drive. You may find it easier to shoot (i.e. stand in the gunner 'seat') and drive. The only problem is that the vehicle becomes somewhat top-heavy then, so you will often roll more easily. Acceleration and reverse speed have been increased
slightly, but forward speed remains the same (as it is with the ghosts). This is to prevent 'laggy-looking' gameplay in multiplayer.

8. You will see that there are many portals in this map. Make use of them to escape combined fire from the ghosts. Also, to access the main cliff platform, jump up against the pillar in the center cave below from any side or use the portal from the sky platform (it is multi-directional; face the direction of the cliff you want to go to before stepping onto the transporter base). There is also a series of portals along the cliffs to the right of the red base which can take you right up to and onto the main cliff platform. (I'll leave it up to you to figure out how to get to these...).

9. When you want to play regular BG maps again over the 'Net, rename this map (eg. 'bloodgulch.map.ai') to deactivate it, then restore your default BG map to its original name. If you want to play this map in multiplayer, all must have a copy of the map. Otherwise, it won't work.
Known issues:
a. On rare occasions, the game will suddenly quit (as if you chose to quit).

But, this is rare.
b. The sky platform will likely appear to you on the ground to be only
partially constructed, but once you actually step onto it, you will see that
it's all there.


Many thanks to the AI-in-Blood-Gulch Project developers for providing the basic
groundwork for this mod. Also thanks to the generous developers of HMT, HHT, and
SparkEdit, for their excellent utility software.


Send comments/suggestions to

ai_in_bg_feedback @ yahoo . com

Enjoy.

rŞzy Fker