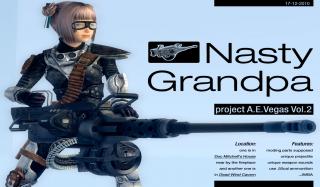 Views: 6,808
vol.2u3
eomanv
2010-12-25
Merry X'mas!
I made a short clip to show you the features of Nasty Grandpa.

2010-12-23
add a flesh impact gfx, you can see your juicy targets splash their contains when hit by Grandpa. in this update there are more than 120 deathclaw sacrifice for testing the effect.
update1 and 2 are NOT required.
i think works about Nasty Grandpa may done, just need a short rest now.

2010-12-22
not so IMBA now. fix projectile and muzzleflashes. also some wrong texture issues fixed. update1 is NOT required.

2010-12-18
muzzleflashes changed. i agree this update is a FAIL.

---------------------------------------------
vol.2 2010-12-18
Nasty Granpa and Nasty Camera, the things what we can really called "Big Gun".
you can find a Nasty Big Gun in doc's house, or go to dead wind cavern. moding parts supported, design for deathclaw hunting. don't hurt yourself.