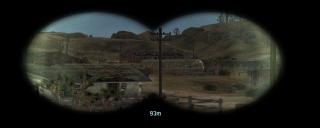 Views: 2,922
1.2
Gopher

Advanced Recon Series


1. Advanced Recon Thermal Nightvision.
2. Advanced Recon Stealth Armor.
3. Advanced Recon Trap Detection.



Update version 1.2

1. Increased accuracy and reliability.
2. No more water disturbance if zooming close or under water.



Description
Very simple mod that displays the distance to your target when zooming in on a scope/binoculars. Very useful if you do a lot of sniping and forget how far in you zoomed.



Requires
NVSE is required.


Limitations

Works up to 14000 game units (200m), although in practive unless you are running ultra everything you probably wont get that far. Even though you can see land in the distance, it is not always something that is really there, and so cannot be detected for distance.

Any time you see 'signal lost ...' you are either looking out into space, or at an area the game has not actually built yet.